Follow The Duke and Duchess of Cambridge as they visit California
Follow their Royal Highnesses The Duke and Duchess of Cambridge online as they visit California from Friday 8 July to Sunday 10 July.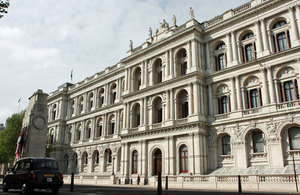 Their Royal Highnesses The Duke and Duchess of Cambridge will visit California in a trip that will continue to deepen and strengthen the multi-layered links between the United States and the United Kingdom.
The couple's trip will be chronicled on the UKinUSA website. Visit the Royal Visit LA webpage to follow the couple from one event to another through our interactive Google Map. Keep apprised of news and events and witness what the couple has been doing on their visit to California in photos and video.
On Friday 8 July, the The Duke and Duchess will arrive in Los Angeles and be met by Ambassador Nigel Sheinwald. They will attend a business event in support of UK Trade and Investment that brings together British and American technologists and Venture capitalists to find new avenues for investment and creating jobs in the United States and the UK. In the evening the couple will meet California's political, business, and philanthropy leaders at a reception at the British Consul-General's residence in Los Angeles.
On Saturday 9 July, The Duke and Duchess will attend the centenary event of the Santa Barbara Polo and Racquet Club, a charity event held in support of the American Friends of The Foundation of Prince William and Prince Harry. The Duke will play in the polo match, and The Duchess will present the prize to the winning team. That evening, they will attend a red-carpet event in support of the British Academy for Film and Television Arts, of which The Duke is President, at the Belasco Theatre in Los Angeles.
On Sunday 10 July, following a private engagement in support of Tusk USA, the American branch of Tusk Trust, of which the Duke is Patron, the couple will visit Inner-City Arts. Inner-City Arts is an organisation that uses visual arts and performance to give inner city children an oasis of calm, fun, and learning. In their final event, the Duke and Duchess will then attend a job fair organized by Service Nation: Mission Serve for US servicemen and women transitioning to civilian life.
The Duke and Duchess will then return to the United Kingdom that evening.
Published 8 July 2011