Flypast and Trooping the Colour mark Queen's birthday
On Saturday 11 June 2011 soldiers of the Household Division had the honour of performing the famous Trooping the Colour ceremony to mark Her Majesty The Queen's official birthday, while 25 RAF aircraft performed a flypast over Buckingham Palace.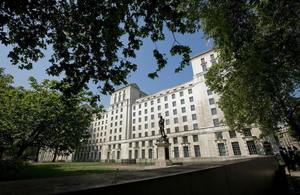 This year the colour being trooped in the presence of Her Majesty was that of the 1st Battalion Scots Guards. The Duke of Edinburgh and the Royal Colonels (the Prince of Wales, the Duke of Cambridge, the Princess Royal and the Duke of Kent) were also on parade.
Although the Queen was born on 21 April 1926, since 1748 it has been the tradition to celebrate the sovereign's birthday publicly on a day in the summer, when good weather is more likely. From the reign of Edward VII onwards, the sovereign has taken the salute in person at Trooping the Colour.
During the ceremony, the Queen was greeted by a royal salute and carried out an inspection of the troops.
Over 1,300 officers and soldiers were on parade in Horse Guards in the traditional uniforms of the Household Cavalry, Royal Horse Artillery, and Foot Guards.
A total of 241 horses were used on the parade and music was provided by 327 musicians from ten bands and the Corps of Drums which marched and played as one. The famous Drum Horses of the Mounted Bands also added to the ceremonial spectacle.
The flypast was made up of 25 aircraft - 11 different types, from the World War Two Spitfire, Hurricane and Lancaster, to modern multi-role Typhoon fighters and the Red Arrows aerobatic display team.
A Chinook and two Puma helicopters led the formation for the first time, representing Joint Helicopter Command and the role of helicopters on operations.
Commenting on the flypast, Chief of the Air Staff Air Chief Marshal Sir Stephen Dalton said:
International reaction to recent events has seen significant additional Royal Air Force personnel deploy and operate rapidly and highly effectively on Operation ELLAMY.
The capability, ethos and professionalism of all our personnel, as well as success on our continuing critical roles in Afghanistan, should reassure Her Majesty that the Royal Air Force is in good heart.
The Trooping the Colour ceremony dates back to the early eighteenth century or earlier, when the colours (flags) of a battalion were carried (or 'trooped') down the ranks so that they could be seen and recognised by the soldiers.
The ceremony is carried out by fully trained and operational troops, and watched by members of the Royal Family, invited guests and members of the public.
Published 13 June 2011