World news story
Flying the rainbow flag for IDAHO
The British Embassy Tokyo celebrates IDAHO – the International Day Against Homophobia and Transphobia.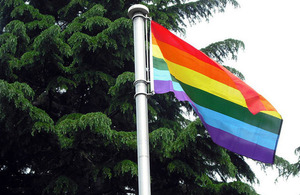 Saturday 17 May is International Day Against Homophobia and Transphobia (IDAHO) and the British Embassy Tokyo is flying the rainbow flag in a show of support and to mark the day in Japan. Inspired by other "world-theme days", IDAHO originated in Canada but is now celebrated widely in other countries around the world. It is a day to be celebrated by all types of organisations—including employers, private businesses, and governments—which support equality for members of the lesbian, gay, bisexual and transsexual (LGBT) community.
IDAHO is also an opportunity to expose and discourage the various forms of discrimination against the LGBT community, including the increasing threat of cyber bullying and harassment. According to a US study, twice as many LGBT students report being victimised by cyber-bullying compared with their heterosexual peers, and one-third of youngsters bullied online experience symptoms of depression.
The United Kingdom government is a proactive supporter of equal rights for LGBT individuals. England and Wales legalised same-sex marriage in March, and the British Embassy Tokyo offered official sponsorship to the 2014 Tokyo Pride LGBT event. You can find out more about this event and read the Ambassador's speech by following the link below.
Published 17 May 2014