News story
Flying the flag for equality
The UK armed forces have come second in the first league table of the most gay-friendly militaries in the world.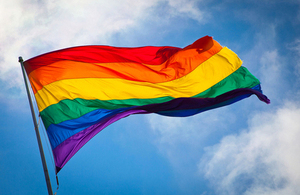 This was revealed in a brand new index from the Hague Centre for Strategic Studies that ranks the armed forces of 100 countries by their inclusion of lesbian, gay, bisexual and transgender personnel.
The UK narrowly missed out on the top spot, but did receive top scores for putting the gay community at the forefront of all its policies and practices around admission, tolerance, inclusion, exclusion and persecution.
The high ranking recognises the efforts made across the armed forces in the UK to create a more inclusive environment, and comes just weeks after MOD won the award for 'most improved employer' in the Stonewall Workplace Equality Index 2014.
The 3 services were also well represented in the Stonewall Index: the army made it into the top 100 for the first time ever, in 79th place, a position it shared with the Royal Navy, and the RAF was 108th.
Defence minister Anna Soubry said:
This is more good news and reward for the hard work the department has made to create a positive working environment for its lesbian, gay and bisexual military and civilian employees. It builds on the excellent result in this year's Stonewall Index.

The single services want to create a workforce, both regular and reserve, that is drawn from the breadth of the society we defend, that gains strength from that society's range of knowledge, experience and talent, and that welcomes, respects and values the unique contribution of every individual.
Published 21 February 2014