Floods, camera, action: new high tech cameras helping residents at risk from flooding in Warwickshire
The Environment Agency has been helping local residents be better prepared for flooding by installing new high tech flood warning cameras across Warwickshire.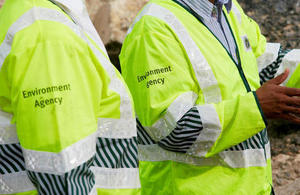 The camera system, which is entirely solar powered, will monitor 8 watercourses across the county to help make sure that local residents are alerted if their properties are at risk of flooding. Residents signed up to the Environment Agency's flood warning service will receive an automated call, and those who follow the camera via twitter will receive alerts and photos when the water levels rise significantly.
Speaking about the new camera system, Environment Agency Project Manager, Jamie Sarginson said:
There's a history of severe flooding in places such as Bedworth and Elford, and more recently in Wellesbourne and Whitacre Heath when several properties flooded. Since then the Environment Agency has been working closely with partners and communities to investigate ways to make them more flood resilient – and this new camera goes a long way to achieving that goal.

The cameras have a high water sensor which will enable us to alert residents as river levels rise. If the correct settings are added to the individuals' twitter account, then they will be able to hear an alert when images or alarms are tweeted from the camera's twitter account. We hope it makes a real difference for those potentially at risk of flooding so they can be better prepared.
The community can also view the cameras via Vision Link - the company that created the cameras. The pages are automatically updated when new images/alarms are received. Under this tab there is also guidance on how to set up a twitter account, follow the cameras and receive alerts.
The camera sends images approximately every 4 hours during daylight hours but more images can be requested by Environment Agency staff via the Vision Link mobile site as and when needed, allowing us to closely monitor the sites during an incident.
Contact
Media enquiries: 0800 917 9267
Note to editors
Anyone who is concerned about flooding can sign up to receive free flood warnings, check their flood risk and keep up to date with the latest situation, including a 3 day flood forecast here or by calling Floodline on 0345 988 1188.
Locations with twitter sites and alerts
| | | |
| --- | --- | --- |
| Location | Post code | Watercourse |
| Banner Lane, Coventry | CV5 7FJ | Brookstray |
| Bedworth | CV12 8RF | Bedworth Sloughs Brook |
| Bedworth Croft Pool 1 | CV12 8QW | River Sowe |
| Rowleys Green Lane, Coventry | CV6 6AN | River Sowe |
| Racecourse brook, Stratford-upon-Avon | CV37 0TA | Racecourse Brook |
| Shipston Bridge, Shipston-on-Stour | CV36 4AW | River Stour |
| Welford | CV37 8PW | Middle Avon |
| Whitacre Heath | B78 2DX | Ditch near River Tame (Sue Russell Brook) |
List of locations with twitter sites and possible future water sensor alerts
We also have additional cameras that don't currently provide alerts. These may be fitted at a later date. People can still follow these cameras on twitter and receive photos.
| | | |
| --- | --- | --- |
| Location | Post code | Watercourse |
| Bilton Road, Rugby | CV22 7DY | Sow Brook South |
| Millers Road, Warwick | CV34 5AE | St Johns Brook |
| Gunnings Bridge | B49 5QY | River Arrow |
| Snitterfield | CV37 0TR | Bell Brook |
Published 2 November 2015