Flooding in India and Pakistan
The Foreign Office has set up helplines for people concerned about British Nationals in areas affected by flooding in Pakistan and northern India.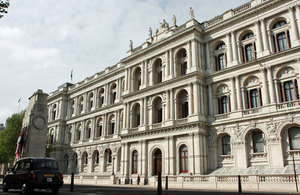 If you are in the UK and you are concerned about British Nationals in India or Pakistan please call 020 7008 1500.
If you are in India, please call 011 2419 2100.
If you are in Pakistan, please call 0092 (0)51 201 2000.
Pakistan
In Pakistan heavy rain over the last few days has caused significant flooding, particularly in Khyber-Pakhtunkhwa and Baluchistan. Reports of flooding have also come from Punjab and Sind Provinces and areas of Pakistan Administered Kashmir. Further heavy rains are forecast which could cause further flooding and the periodic closure of airports and major roads.
The flooding has caused over 1,500 deaths and caused widespread disruption in many areas, affecting an estimated 4.5 million people.
Please see check Foreign Office Travel Advice for Pakistan for more information.
India
There have been flash floods in and around the Leh area of northern India. Initial reports indicate that many people have been killed or are missing. Communications networks have been seriously affected.
A rescue operation by Indian police and armed forces is underway. Additional commercial flights are now departing from Leh on an ad hoc basis. For information on local transport check the Foreign Office Travel Advice for India.
British nationals in the affected area should follow advice from the local authorities.
Published 10 August 2010