Flooding in Benin and West Africa
Britain's response to flooding in Benin and West Africa through emergency support to Care International.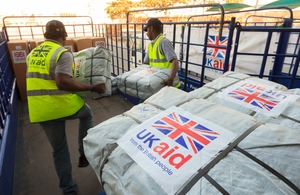 27 October: update
Around 680,000 people have now been affected by widespread flooding in Benin, West Africa.
Over two thirds of the country's communes have been affected and fears are growing that diseases like cholera could spread across the country.
The UK government has been at the forefront in supporting the humanitarian charity Care International's vital work in Benin.
UKaid support to Care International is helping provide fresh clean drinking water, urgently needed shelter, mosquito nets and food to thousands of people in need of help.
Although Benin has suffered the worst this year, across the West Africa region more than 1.6 million people have been affected by torrential rains causing over 300 deaths to date.
---
15 October
The current rainy season across West Africa has affected hundreds of thousands of men, women and children in almost every country in the region. The worst flood-affected country is Benin where 43 people have been killed and over 150,000 people's homes have been damaged or lost due to the floods. Farm land and schools have also been badly damaged by the floods. Overall, 360,000 people have been affected by the floods in Benin.
The Government of Benin has declared a national emergency and called for international aid in response to the rapidly emerging crisis.
Britain has been quick to respond to the flood-stricken nation through emergency support to Care International.
Britain will help provide 50,000 people with:
a supply of clean, fresh drinking water and hygiene kits to stop the spread of disease;
shelter, mosquito nets and cooking kits to the most vulnerable families affected by the floods; and 
urgently required food to meet the needs of both adults and children caught up in this disaster.
DFID will continue to monitor the situation on the ground to ensure our aid is reaching people as quickly and efficiently as possible.
Published 27 October 2010