News story
Flight Lieutenant William Wales completes RAF Search and Rescue duties
The Duke of Cambridge has completed his tour of duty with the Search and Rescue Force at RAF Valley.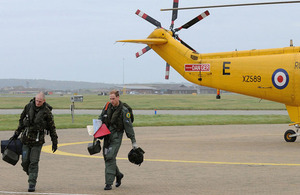 During his last shift, Flight Lieutenant William Wales and his crew had an uneventful 24 hours which ended at 9.30am on Tuesday, 10 September 2013.
During the preceding 24 hours, they conducted a routine training flight, but thankfully, there were no incidents requiring their services across North Wales or the Irish Sea.
Flight Lieutenant Wales's time with the RAF was summarised by Chief of the Air Staff, Air Chief Marshal Sir Andrew Pulford, who said:
Flight Lieutenant Wales has been an integral part of the Royal Air Force's Search and Rescue Force, as a Sea King pilot on Number 22 Squadron, based at Royal Air Force Valley for the past 3 years.

Throughout his tour, his airmanship, often in the most demanding of conditions, has contributed directly to saving lives in the mountains of North Wales and from the ravages of the Irish Sea. He has earned the respect of all who have worked with him as a highly professional and competent pilot.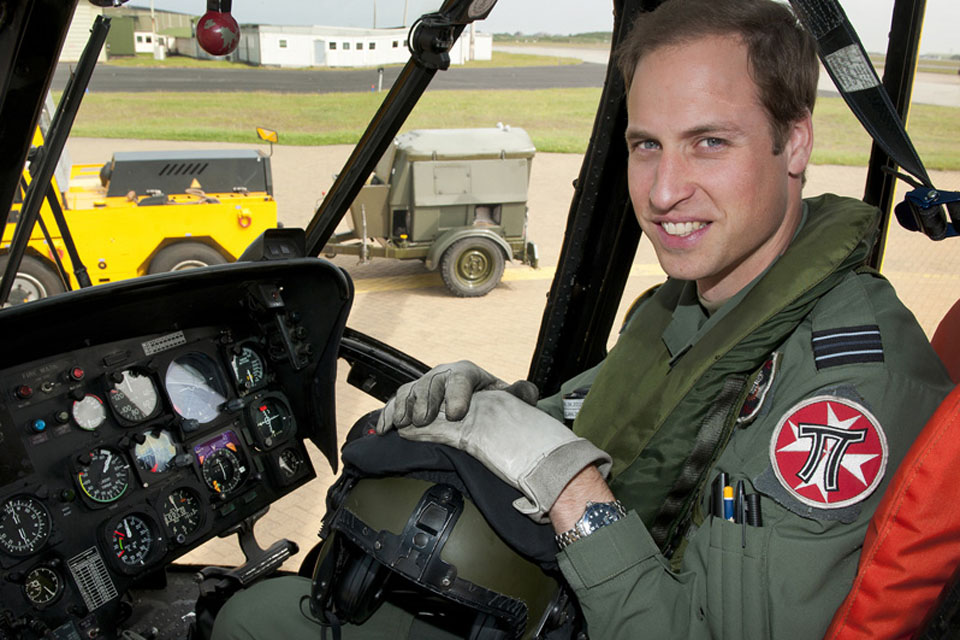 After completion of the Sea King Operational Conversion Course at RAF Valley with Number 203 (Reserve) Squadron, Flight Lieutenant Wales remained on the base, joining C Flight of No 22 Squadron on 21 September 2010.
His flying career followed that of all newly-graduated pilots, serving initially as a co-pilot before progressing through a range of qualifications to become an operational aircraft captain on 30 May 2012.
Since first joining the Royal Air Force, Flight Lieutenant Wales has amassed a total of 1,301 flying hours in a variety of aircraft types, including the Tucano fixed-wing training aircraft, followed by more flying in the Squirrel, Griffin and Sea King helicopters.
Over his 3 years of operational search and rescue flying he has accumulated 628 hours and 30 minutes flying in the yellow Sea King helicopter – on par with his fellow Sea King pilots.
During this time he spent 231 hours and 25 minutes conducting 156 individual search and rescue operations. These resulted in 149 people being rescued, often when no other hope existed of extracting them safely from their predicaments.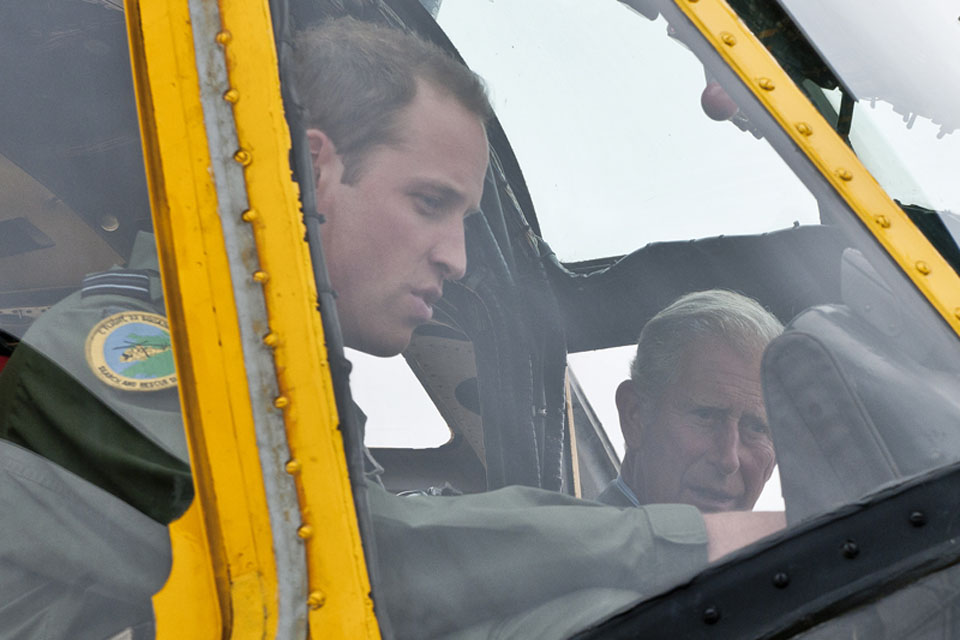 Wing Commander Sparky Dunlop, Officer Commanding No 22 Squadron, said:
Flight Lieutenant Wales has played an important role in the RAF Search and Rescue Force, as a pilot and aircraft captain. Over the past 3 years, he has conducted 156 search and rescue operations which directly resulted in assistance being rendered to 149 people in distress.

These missions were conducted across Wales, north-west England and the Irish Sea in a range of weather conditions which tested the crew's airmanship skills and determination.

I have flown with him and been very impressed with his flying ability and I'd be happy to fly with him again. We all wish him and his young family the very best for the future.
Flight Lieutenant Wales's final shift was marked by the presentation of small gifts from his fellow Search and Rescue (SAR) aviators, likewise engineering staff provided him with a memento of his time at the controls when AgustaWestland Shift Engineering Manager Stephen Sedgwick present him with a plinth-mounted cyclic control stick top.
Squadron Leader Alex Brassington, who was Flight Lieutenant Wales's flight commander at C Flight, said:
Flight Lieutenant Wales has had a very successful tour on the SAR Force and has developed into a well-respected captain and junior officer.

His skill as a pilot has directly resulted in lives being saved and he has ably led his crew in many SAR operations in the challenging North Wales environment, often operating his aircraft in poor weather and at night in Snowdonia.

Of note, he was the co-pilot of the crew that responded to the Marine Vessel Swanland sinking off the North Wales coast which resulted in 2 crew members being recovered from the sea and the winchman being awarded an award for bravery.

On the ground, he has been involved in all aspects of Flight life and has made a valuable contribution to the output of 22 Squadron. C Flight wishes him and his family all the best for the future.
Published 12 September 2013