Press release
Fleetwood and PNE fans advised to leave extra driving time for Sunday's derby
Football fans using the A585 on 29 March to get to the Lancashire derby between Fleetwood and visitors Preston North End are being advised to leave extra time for journeys.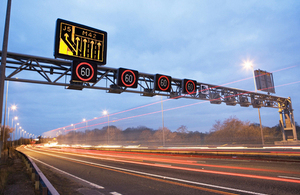 Work on the Highways Agency's £1.3m junction improvement at Windy Harbour is continuing and this weekend involves resurfacing the carriageway, including the newly-widened section.
This work will be carried out during Saturday and Sunday (28 and 29 March) without closing the carriageway but utilising the existing four-way temporary traffic signals arrangement. The signals are staffed between 7am and 7pm to prevent unnecessary queuing but drivers are being advised the resurfacing operation will add extra time to journeys this weekend.
Football fans heading to Sunday's League One match (2.15pm kick off) on Sunday are advised to leave extra time to get to Highbury Stadium.
Drivers are urged to check travel conditions before setting out on journeys.
The Highways Agency provides live traffic information via its website www.highways.gov.uk/traffic, local and national radio travel bulletins, electronic road signs and mobile platforms, such as the iPhone. Local Twitter services are also available at @HAtraffic_nwest, @HAtraffic_yorks and @HAtraffic_pen9 for transpennine routes.
Providing they can do so safely, road users can also call the Highways Agency Information Line (0300 123 5000) to keep up to date with road conditions.
The scheme, which began in November, involves the realignment and widening of the existing crossroads to create extra lanes through the junction. Included are improvements to the pedestrian routes, the addition of cycle facilities and the upgrading of the traffic controllers.
The improvements will reduce congestion at the busy junction, and improve safety.
The project is one of 121 in the Government's £317 million 'pinch-point' initiative – a two year programme of targeted works being delivered alongside larger schemes and routine maintenance and improvements along the strategic road network.
The pinch-point programme, devised with the input of councils and local enterprise partnerships, is designed to help stimulate new development and local economic growth by improving road safety and tackling congestion bottle necks. In all, 28 projects, worth £66 million, are being delivered across the North West.
General enquiries
Members of the public should contact the Highways Agency Information Line on 0300 123 5000.
Media enquiries
Journalists should contact the Highways Agency press office on 0844 693 1448 and use the menu to speak to the most appropriate press officer.
Published 26 March 2015