Flags raised across UK for Armed Forces Day
Every local authority in England, Scotland, Wales and Northern Ireland simultaneously raised the Armed Forces Day flag at 1030hrs. They were…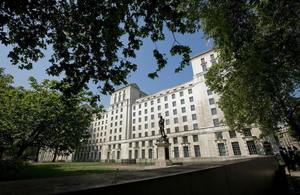 Every local authority in England, Scotland, Wales and Northern Ireland simultaneously raised the Armed Forces Day flag at 1030hrs.
They were joined by 480 district, city borough and metropolitan councils throughout the United Kingdom, the Channel Islands and the Isle of Man, as well as Government Departments, No 10 Downing Street, overseas territories and operational bases overseas.
The Defence Secretary, Dr Liam Fox, said:
As a nation we should be flying the flag for our Armed Forces and recognising all the sacrifices they make to keep our country safe.
These men and women deserve our support and I would urge people up and down the country to get involved with all the many Armed Forces Day events that are taking place this week. They stand up for us; we must stand up for them.
In Cardiff, hosts of this year's Armed Forces Day national event, the flag was delivered to the city by the Royal Navy on a boat from HMS Cambria.
It was then processed up to Cardiff Castle by members of the Armed Forces, a veteran and a cadet, where it was raised on the castle's keep.
The official Armed Forces Day flag can be ordered from Zephyr - see Related Links. An order in the morning will be dispatched the same afternoon and both Royal Mail and courier delivery options are available.
Further information on Armed Forces Day and a full list of events is available on the website - see Related Links.
Published 21 June 2010