Press release
Flag of the Commonwealth flies in Westminster
The flag of the Commonwealth is flying in the heart of government to mark Commonwealth Day.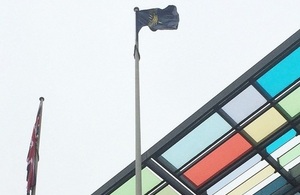 Communities Secretary Eric Pickles today raised the flag outside his department's headquarters in Westminster to mark Commonwealth Day.
The Secretary of State attended a ceremony and gave a speech at the Commonwealth Memorial Gates on Constitution Hill to honour the 5 million men and women who volunteered to serve with the British Armed Forces during the First and Second World Wars.
This service celebrated the contribution these people, their descendants and other members of the Commonwealth family have made and continue to make to the rich diversity of British society.
Communities Secretary Eric Pickles said:
The Commonwealth is a huge part of our heritage which unites all corners of our country and beyond. Therefore it is only right that we celebrate the success of our historic partnership and its enduring influence on our country and Commonwealth Day is the perfect time to do so.
In both world wars millions of soldiers from across the Commonwealth fought side-by-side, defending the values of freedom and liberty, and defeating the dark forces of tyranny and oppression. Every Commonwealth country shares this proud history, but we also share enduring values, which provide enormous opportunities for future cooperation.
Therefore I am proud to be flying the flag of the Commonwealth outside my department to mark this tradition.
Office address and general enquiries
2 Marsham Street
London
SW1P 4DF
Contact form http://forms.communiti...
General enquiries: please use this number if you are a member of the public 030 3444 0000
Published 9 March 2015