News story
Flag-flying from UK government buildings: funeral of Baroness Thatcher of Kesteven
Guidance on how UK government departments should fly flags on Wednesday 17 April.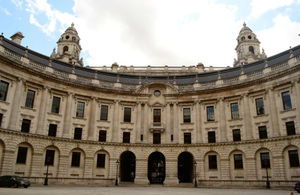 Following the death of Baroness Thatcher of Kesteven, all UK government departments will fly flags on their buildings at half-mast on the day of the funeral, Wednesday 17 April.
Flags should be flown at half-mast from dawn to dusk on that day. It would be expected that, where flags are flown twenty-four hours a day, flags be lowered to half-mast at 8.00am and raised again to full-mast at 8.00pm on that day – which are the hours of daylight.
Any other UK national flags flown alongside the Union Flag when it is at half-mast should also be at half-mast. If a flag of a foreign nation is normally flown on the same stand as the Union Flag, it should be removed.
Local authorities are not bound by this request but may wish to follow it for guidance.
We will issue any changes to this advice as soon as they are known.
Published 15 April 2013