News story
Five Country Ministerial starts in London
Australia and United Kingdom joint hosts of the second Five Country Ministerial meeting focused on security and intelligence cooperation.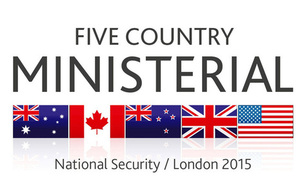 Ministers from the UK's closest security and intelligence partners – Australia, Canada, New Zealand the United States, known collectively as the 'Five Eyes' – gathered in London today (Thursday 5 February) for the second Five Country Ministerial meeting, jointly hosted by Australia and the United Kingdom.
Canadian Minister of Public Safety Steven Blaney, New Zealand Attorney General Chris Finlayson and United States Secretary of Homeland Security Jeh Johnson were welcomed by Australian Attorney General George Brandis and United Kingdom Home Secretary Theresa May to Lancaster House for the start of the two-day conference.
Home Secretary Theresa May said:
Attorney General Brandis and I are delighted to welcome ministers from the Five Country network to London. The recent terrorist attacks in Paris, Sydney and Ottawa are disturbing reminders of the evolving challenges to our collective security and the importance of a coordinated international response. Rapid technological changes also make it imperative that we ask constantly what more we can do together to keep our citizens safe.

With that objective in mind, this week's Ministerial will reinforce the ongoing cooperation between our governments across our shared national security interests. I look forward to productive discussions over the coming two days.
Australian Attorney General George Brandis said:
The Five Country Ministerial presents an important and timely opportunity for continued and enhanced collaboration and cooperation across the full range of national security matters.

I look forward to discussing emerging and long term issues of critical importance to our collective national security interests, including the implications of recent terrorist events around the world, such as the Martin Place siege in Sydney, fatal incidents in Canada and the attacks in Paris.

These terrorist incidents have highlighted that the threat from extremists is real and not confined to Syria and Iraq.

I am particularly grateful to my co-host Home Secretary Theresa May for hosting the meeting in the United Kingdom.
Discussions during the ministerial will cover a range of topics, including counter-terrorism, cyber threats and organised crime.
The meeting in London this week follows the inaugural Five Country Ministerial chaired by then-United States Secretary of Homeland Security Janet Napolitano in Monterey, California in July 2013.
Published 5 February 2015