Fitness for work assessment will be improved
Changes will be made to the Work Capability Assessment to iron out any problems and improve the system.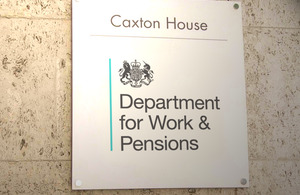 Changes will be made to the Work Capability Assessment (WCA), which assesses whether someone is fit for work, to iron out any problems and improve the system, Employment Minister Chris Grayling announced today.
The changes are outlined in an independent review by Professor Malcolm Harrington, who was asked by Ministers earlier in the year to look at the assessment and recommend improvements. Chris Grayling today pledged to accept all the recommendations from the review.
The Harrington Review, published today, includes evidence from health and disability groups and has made substantial recommendations including:
Dealing with the complexities of cases involving mental health and similar issues by creating a network of "mental health, intellectual and cognitive champions" in each Atos Medical Examination Centre to spread best practice and build understanding of these conditions;
Strengthening the checks and balances in the system by placing the Jobcentre Plus Decision Maker at the heart of the process;
Improving communications and the level of support provided to those who undergo a WCA; and
Ensuring the Atos assessment is transparent by, subject to an initial pilot, recording all assessments.
Responding to the review Chris Grayling said:
It's unacceptable that so many people have been written off to a lifetime on benefits. We know that many of these people could and do want to work, but the current system doesn't allow them to.

Improving the WCA is central to our commitment to help thousands of people start the journey back to work and the Harrington Review is a crucial step towards this.

It's in everyone's interest that we get the WCA right and Professor Harrington's recommendations will make the assessment fairer and more effective.

The WCA should be seen as a positive first step towards returning to work. Those who are found fit for work will get the help and support they need to get a job. Those found too sick or disabled to work won't be expected to and will continue to receive the help and support they need to lead fulfilling lives.
The WCA is already being used to assess new claims for sickness benefits and from early next year will be used to assess all those trapped on incapacity benefits, to see whether they are fit for work, need tailored help to get work ready, or require unconditional support.
Chris Grayling has asked Professor Harrington to continue in his role as Independent Reviewer. Professor Harrington said:
I have found that the WCA is not working as well as it should. However, this is not about ripping up the current system and starting all over again. So I am proposing a substantial series of recommendations to improve the fairness and effectiveness of the WCA.
Notes to Editors:
The Harrington Review and the Government Response can be found at: www.dwp.gov.uk/wca-review/
There are currently 2.2m people on incapacity benefits. 900,000 have been on IB for at least a decade. In the last decade IB has cost almost £135bn.
*[WCA] Work Capability Assessment
Published 23 November 2010