Fishing scheme is 'stress buster' for troops back from operations
A new scheme to provide Service personnel who have recently been on operational deployments with a restful day fishing was launched yesterday, Wednesday 16 June 2010.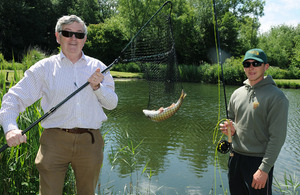 'Fishing for Forces', was created after a soldier wrote a letter to angling magazine 'Trout and Salmon' enthusing about the therapeutic benefits he experienced when fishing.
After reading the soldier's plea, Bill Howell and Christopher Robinson, whose son is currently in Afghanistan, set up the scheme to offer fishing days to all soldiers returning from operations. Christopher said:
I read Lieutenant Davis' letter and so I wrote to the magazine saying wouldn't it be fantastic if people in the UK could give members of our Forces some fishing when they got back.

It's a wonderful day out, a chance to relax, forget about all the stresses and strains of operations and just have a nice quiet day on the water.
'Fishing for Forces' is designed for anyone who has been on an Operational Tour and could do with a touch of peace and quiet and would benefit from the healing effect that a day by the water has to offer.
The scheme is available to all service men and women from the Navy, Army or Air Force who have returned from Operational Duty within the previous 18 months.
See the RN & RM Angling Association website at Related links for more information.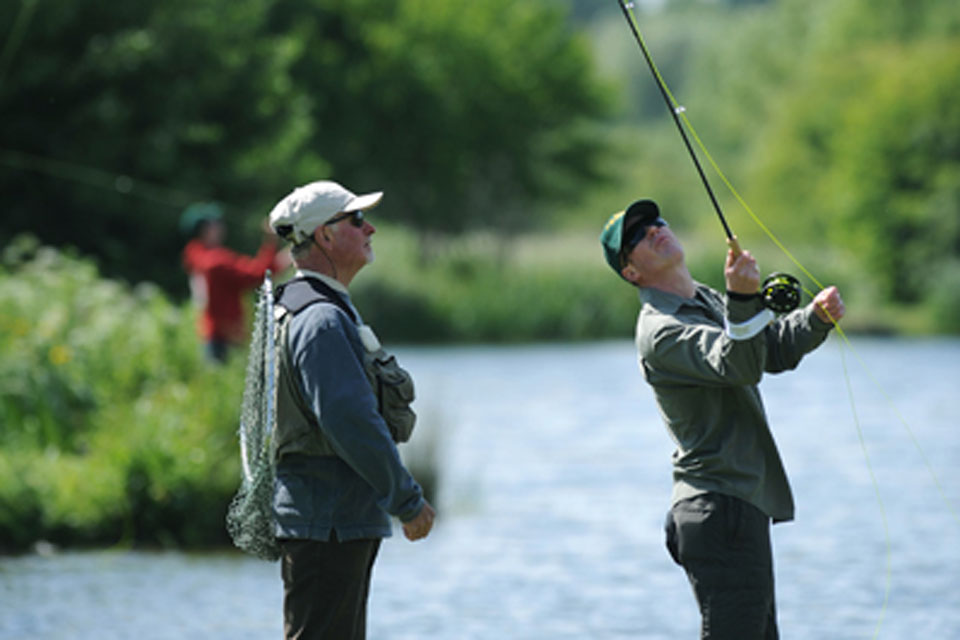 The scheme was launched at Avon Springs Fisheries in south Wiltshire yesterday and was attended by a number of troops from nearby 26 Engineer Regiment and 4 Rifles who took advantage of the chance to relax with rods and nets.
The trout farm was hired for the day by keen local fisherman Jim Steele, who wanted to share his passion for fishing with soldiers, some of whom have only returned to the UK in the past six weeks after a very difficult operational tour in Helmand province, losing comrades and then adjusting to life back in Wiltshire.
Some of the soldiers who attended the launch had never fished before and some hadn't fished since they were children. They said they were enjoying the peace and quiet and didn't realise just how relaxing fishing could be.
Lance Corporal Mark Zareh, aged 22, who is a member of Support Company, Reconnaissance Platoon, 4 Rifles, who handed over to 40 Commando Royal Marines, in the deadliest part of Helmand province in April 2010 took to fly fishing like it was second nature. He was soon casting one-handed, a rare ability in someone so new to the sport. He said:
I walked into work one day and my platoon Serjeant said 'who wants to go fishing?' So me and Rifleman Butt put our hands up for it and that's how come we are here today.
The only experience I've had fishing before this was doing a bit of salt water fishing for pleasure. I'm getting the hang of this fly fishing and I really like it.
During his 'Brilliant' day by the river, LCpl Zareh managed to catch a 4lb (2kg) trout.
Sapper William Morgan aged 22 is a member of 30 Squadron 4 Armoured Troop, 26 Engineer Regiment. He was very enthusiastic about his first experience of fly fishing:
We heard about the fishing day through our boss and thought it would be a good day out. I wanted to come fishing because it's relaxing and something enjoyable," he said. "I have fished before, but not since I was a lad.
Spr Morgan was the first Trojan operator in Helmand province. The Trojan and Python mine-clearing equipment was used in Afghanistan during Op MOSHTARAK and it was Spr Morgan and his colleagues who used the machine to clear vast swathes of Helmand countryside of bombs.
Co-founder of Fishing for Forces Bill said:
The bottom line is whether they're in hospital or whether they're in a base or at home recovering, we've got some fishing not too far away. That's sea fishing, coarse fishing, trout fishing and salmon fishing.

So, if they can get themselves to the waterside, we'll happily organise the tackle, some lunch and a wonderful day out.
Major Derek Saunders, of the Army Personnel Branch that helped co-ordinate the soldiers' attendance yesterday, said:
Fishing, and in particular fly fishing, is a sport that is puts the angler in beautiful surroundings in all weathers.

The challenge of choosing the correct fly for the right conditions, selecting where to present the fly on the water to attract a game fish requires focused attention.

However, once a fish is hooked the situation becomes an exciting battle between the fish and the angler in which sometimes the angler will lose. The result is a period spent in a way that, to put it simply, is the best stress buster going. And that's great for those who have returned from Ops.

'Fishing for Forces' aims to bring together fishing locations around the UK with sponsors, trainers and equipment suppliers to enable soldiers, fit and injured, to enjoy fishing at a location near to where they are based.
Published 17 June 2010