Press release
Fishing cheats land big fines in court
Two London anglers each had penalties imposed of over £450 at St Albans Magistrates' Court on 21 September 2016.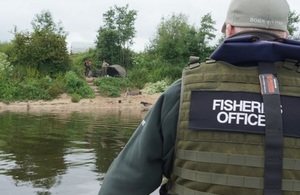 The men were fined for fishing without a rod licence and taking fish without permission, in contravention of national byelaws and schedule 1 of the Theft Act, at a trout fishery in Ware, Hertfordshire.
Leonidas Kupcikovas, Ilford IG6 and Slavkas Kupcikovas, London E7, were caught by the police fishing at night and were each fined £330 (plus £127 costs and £33 victim surcharge), when an Environment Agency annual licence costs just £27.
Environment Manager Debbie Jones said:
We check licences across all fisheries in Hertfordshire, and work in partnership with fishery owners and the police to detect and deter fisheries crime. People who don't buy a licence are cheating other anglers and the future of the sport. The Environment Agency relies on the income from rod licences to continue the important work we do to protect fish stocks, improve fisheries and encourage more people to take up fishing.
If you are caught fishing without a rod licence you risk a criminal conviction and a fine up to £2,500. There is no excuse – annual rod licences for trout and coarse fishing remain at £5 for 12 to 16 year olds, £18 for senior and disabled concessions and £27 for non-concessions. Children under 12 can fish for free. Licences are easy to buy from the Post Office website or by phone on 0344 800 5386 prior to fishing. Anglers should always ensure they have permission to fish at a fishery and check Environment Agency byelaws.
Last year, Environment Agency officers checked more than 62,000 licences and prosecuted more than 1,900 licence cheats. Between them, they were ordered to pay fines and costs in excess of £600,000. To help crack down on unlicensed fishing the Environment Agency urges anyone to report illegal activity by calling 0800 80 70 60 or anonymously to Crimestoppers on 0800 555 111.
Money raised from rod licence sales is reinvested in the environment, including a whole range of projects to improve facilities for anglers, protect stocks from illegal fishing, plus fish restocking, invasive species eradication, and working with partners to encourage people to take-up fishing for the first time.
Published 28 September 2016