Press release
Fisher Lane roundabout closures to complete congestion cutting scheme
Drivers are advised Fisher Lane roundabout on the A1 at Seaton Burn will be closed for three weekends in order to resurface the newly widened roundabout and approach roads.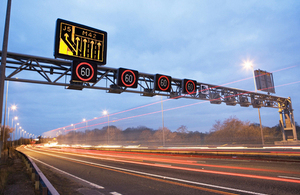 The Highways Agency pinch point scheme at Seaton Burn in North Tyneside is in the final few weeks of work. When complete, the scheme will cut congestion and improve journeys for drivers.
Highways Agency Assistant Project Manager, Steve Bishop, said:
Drivers will soon benefit from the improvements at the Seaton Burn junction. The embankment work is finished, the majority of drainage work has been completed and lighting columns are now being installed.

The weekend closures are critical for surfacing work to take place. The roundabout must be closed as there is not enough room for surfacing machinery and drivers to safely use the roundabout at the same time.
The closures will take place from:
Friday 24 October 8pm to Monday 27 October 6am.
Friday 7 November 8pm to Monday 10 November 6am.
Friday 14 November 8pm to Monday 17 November 6am.
During the closures the A1 northbound and southbound traffic in the vicinity of Seaton Burn will not be affected.
Work on the £6.5 million, A1/A19 Seaton Burn junction began in June and will be completed in December. The scheme will have a positive impact on drivers using this important junction, helping to reduce congestion and improve journey times. It will support a number of future developments in the area, which have the potential to create 17,300 jobs and 16,300 homes by 2020. The scheme involves:
Improving the northbound and southbound exit slip roads from the A1 at Seaton Burn junction.
Widening the Fisher Lane roundabout, and also the A1068, A1 and A19 approaches to the roundabout.
Installing traffic signals on the B1318 approach to the junction.
Improving pedestrian and cyclist facilities across Fisher Lane roundabout.
Providing a new concrete barrier on the A1.
Installing new traffic signs, signals, lighting, retaining walls and landscaping.
There are narrow lanes in place on the northbound A1 and A19 carriageways. During the remaining work there will be night-time lane closures, full closures and speed restrictions.
The work is part of the Government's £317 million pinch point improvement programme designed to boost local economies, reduce congestion and improve safety on the strategic road network in England. There are 4 Highways Agency pinch point schemes, totalling an investment of over £21 million, taking place in the north east.
Further information is available on the Highways Agency website on the Pinch Point programme.
General enquiries
Members of the public should contact the Highways Agency Information Line on 0300 123 5000.
Media enquiries
Journalists should contact the Highways Agency press office on 0844 693 1448 and use the menu to speak to the most appropriate press officer.
Published 21 October 2014