News story
First World War cultural programme launches
Maria Miller welcomes plans for artistic and cultural commemorations.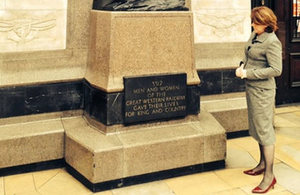 In a speech this morning on board the HMS President, Maria Miller welcomed the launch of a major cultural programme that will take place across the United Kingdom, marking the centenary of the First World War.
Leading the programme 14-18 NOW will work with other organisations across the UK to commission large scale cultural projects. These projects will encourage people from every community to reflect on how the First World War has shaped life today.
The programme begins with events marking the anniversary of the declaration of war on 4 August:
The Day will begin with a national service commemoration at Glasgow Cathedral, focussing on the Commonwealth contribution to the war
At dusk there will be a beautiful event focused on the theme of reconciliation at St Symphorien Military Cemetery in Belgium.
At 11pm to mark the moment war was declared Westminster Abbey will lead a national candlelit Vigil inpsiring communities up and down Great Britain to turn off their lights – with the exception of a single light source symbolising the light of hope and resilience which saw the country through the ensuing 4 years
Get involved
On platform 1 of London's Paddington Station stands a statue of an unknown soldier reading a letter. 14-18 NOW is inviting in the country to write that letter, and all the letters that the soldier receives will be published on the 14-18 NOW website.
Welcoming the programme, Maria Miller said:
The First World War itself produced and inspired art, much of which lives on to this day. This newly commissioned work over the next 4 years will complement what has gone before and help all of us, old and especially young, to pause for a moment in remembrance of those 4 years a century ago.
Further information
Published 27 March 2014