World news story
First World War Centenary in Lebanon
British Embassy commemorates the centenary of WW1 to honour those who served and remember those who died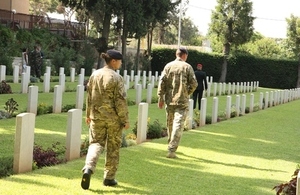 The British Embassy in Beirut held a ceremony to commemorate the centenary of the start of the World War I at the Beirut Commonwealth War Grave Cemetery, to honour those who served, to remember those who died, and to ensure that the lessons learnt live with us forever. Similar celebrations are taking part in the UK and throughout the world.
The ceremony was attended by British Chargé d'Affaires Ms. Abda Sharif, British Defence Attaché Lt. Col. James Cushnir; Australian Ambassador Lex Bartlem; Canadian Ambassador Hilary Childes-Adams; Russian Chargé d'Affaires Vyacheslav Maksudov and Serbian Chargé d'Affaires Veljko Piljak. Brigadier General Ousama Atchan represented Lebanese Armed Forces Commander General Jean Khawaji.
After the ceremony, attendees laid wreaths in memory of the fallen, and planted a laurel tree commemorating the event.
The First World War Commonwealth War Grave Cemetery in Beirut has the remains of around 300 persons from the UK, Australia, Canada, New Zealand, US, Serbia and Russia. The war graves are supervised by the Commonwealth War Graves Commission.
For more photos check out Flickr
Published 5 August 2014