World news story
First World War centenary commemoration
This was published under the 2010 to 2015 Conservative and Liberal Democrat coalition government
The event was co-hosted by the United Service Institution of India (USI) and the British High Commission (BHC).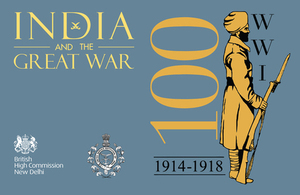 British Secretary of State for Defence, Michael Fallon MP; the Indian Minister of Defence and Finance, Shri Arun Jaitley; and Indian Chief of Army Staff General Dalbir Singh, PVSM, UYSM, AVSM, VSM, ADC were present at a flagship event to commemorate the centenary of the First World War (WW1) held in New Delhi on 30 October.
Highlights of the audio visual extravaganza, co-hosted by the United Service Institution of India (USI) and the British High Commission (BHC), were:
unveiling of six Victoria Cross (VC) memorials (six VCs were won by Indian soldiers following WW1) *

presentation of War Diaries** to senior retired officers representing the Regiments

presentation of Digitised War Diaries of the India Corps (that fought in France and Flanders) to India's Defence Minister
The event also saw:
unveiling of a Victoria Cross (VC) commemorative bronze plaque ***

unveiling of Battlefield guide book by the UK Secretary of State and Director General of USI. (The guide would be useful for those families wishing to visit the France and Flanders Battlefields)

unveiling of Coffee table book by the UK Secretary of State and Director General of USI (The book is pictorial overview of India and the Great War, funded in conjunction with USI)
Mr Fallon said:
India and the UK are natural partners. The events I've attended and the discussions I've held in Delhi are the clearest possible evidence that this partnership is deep, broad and long-standing.

In a moving ceremony to mark the enormous contribution made by Indian servicemen during the First World War, Defence Minister Jaitley and I reflected on the common values which India and the UK shared then and still share now. There was, rightly, great pride on both sides.

We also looked forward, to consider how our countries can work together in tackling the many security challenges threatening global and regional security. And our shared pride at events a century ago stands us in very good stead as we embark together on that work.
A host of dignitaries comprising senior officials from the Indian defence, political and business establishments were present. They included:
Shri Navtej Sarna, Special Secretary of the Ministry of External Affairs of India

British High Commissioner Sir James Bevan KCMG

Director, United Service Institution of India (USI) Lt Gen PK Singh, PVSM, AVSM (Retd)

Sqn Ldr Rana TS Chhina, Secretary & Editor, Centre for Armed Forces Historical Research (CAFHR), USI

Brigadier Brian McCall, Defence Adviser, British High Commission

Jody East, Curator of Exhibitions, Brighton Museum & Art Gallery

descendants of the VC winners
The Royal Air Force (RAF) and Indian Air Force (IAF) bands were in attendance. The audience had the opportunity to watch some rare original black and white WW1 footage, including that of soldiers from the Indian corps. This was procured from the UK especially for the event.
RAF band performs at the event
IAF band performs at the event
Further information:
The UK's plans to mark the centenary of the First World War (WW1) both in the UK and abroad kicked off on 4 August this year. In the UK, activity includes a programme of ceremonial events over 4 years; a programme organised by the Imperial War Museum and funding for students & teachers to visit battlefields of the Western front.

The UK recognises that it could not have prevailed in WW1 without the huge contribution and sacrifice made by many countries. It is important we do not forget that shared endeavour and that we continue to pass the lessons of that terrible war on to younger generations. Commemorations follow the themes of Remembrance, Youth and Education. The Indian contribution to the WW1 war effort was one of the largest from the Commonwealth.

Background facts:

WW1 started 28 July 1914 and finished on 11 November 1918
involved all of world's great powers, 70 million combatants, with more that 9 million killed
British Empire entered the war on 4 August 1914
over 1.1 million Indian servicemen fought in WW1 and there were around 70,000 fatalities
The Indian Army dominated, but the Indian Navy also contributed and Indians served in the Army Flying Corps. There were also labour battalions recruited from Bengal
The Indian Army has the distinction of having fought in almost all theatres of the war – France and Flanders, alongside the ANZACs at Gallipoli, Mesopotamia, Palestine and North Africa

the UK commemoration included:

a memorial service 4 August at Glasgow Cathedral for Commonwealth Leaders which coincided with the closing ceremony of the 2014 Commonwealth Games. Same day events were held at the Symphorien Military Cemetery in Mons Belgium and a candle-lit Vigil at Westminster Abbey

thereafter a rolling 4 year programme with a significant WW1 milestone marking each year:

April 2015 – Gallipoli
2016 – Battle of Jutland and first Battle of the Somme
2017 – Passchendale
2018 – Armistice Day

for additional sources of key information, High Commissioner's pre event video message & high resolution commemoration logo please log on to the special WW1 Commemoration pages

CV of UK Secretary of State for Defence Michael Fallon

Photos of the visit and event

See storify for full coverage

for further information please contact:
*11 VC's were won in WW1, but 2 of these were won by Nepalese nationals and 3 by soldiers born in what is today recognised as Pakistan.
**A War Diary is an official record of events maintained during conflict. It will include routine orders, operational orders and administrative orders. In effect a historical record of the Regiment's life on the front.
***The commemorative bronze plaque was unveiled at Lancaster House in London on 26.6.14 by then FCO senior minister Baroness Warsi.
Stuart Adam, Head
Press and Communications
British High Commission
Chanakyapuri, New Delhi 110021
Tel: 44192100; Fax: 24192411

Mail to: Kitty.Tawakley
Follow us on Twitter, Facebook, Flickr, Storify, Eventbrite, Blogs, Foursquare, Youtube
Document information
Published: 31 October 2014