World news story
First round of UK-Palestinian Strategic Dialogue held in Ramallah
FCO Director for Near East and North Africa David Quarrey heads high-level delegation for inaugural UK-Palestinian Strategic Dialogue.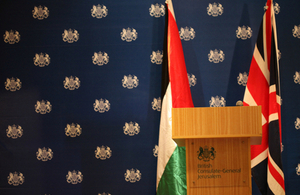 The UK's Foreign and Commonwealth Office Director for the Near East and North Africa, David Quarrey, visited the Occupied Palestinian Territories to hold the first-ever Strategic Dialogue between the British Government and the Palestinian Authority in Ramallah on Wednesday 28 May.
The Strategic Dialogue aims to strengthen existing bilateral relations with the Palestinian Authority and reinforce the UK's strong support to building Palestinian institutions. British officials from British Consulate General in Jerusalem, Department for International Development, the British Support Team, and the British Council attended the discussions with Palestinian officials.
The discussions focused on issues of mutual interest such as prospects for the Middle East Peace Process, Palestinian reconciliation, statebuilding and human rights. There was a wide discussion of strategic regional issues focusing on opportunities and threats in the Middle East, and wider global trends. Officials also discussed opportunities for deepening co-operation and partnership in the fields of culture and education, security, and youth empowerment.
David Quarrey said:
I am delighted to be here in Ramallah today to represent the UK at the inaugural UK-Palestinian Strategic Dialogue. We discussed a range of important issues including prospects for the Middle East Peace Process, regional stability, cultural partnership, and UK assistance in further building an effective, transparent, open and accountable Palestinian state. I look forward to progressing our discussions today, and translating them into concrete steps, to build an ever deeper partnership.

I reiterated the UK's commitment to a two-state solution, a secure and universally recognised Israel living alongside a viable State of Palestine, based on 1967 borders plus agreed land swaps, with Jerusalem as a shared capital. There must be a just, fair and agreed resolution of the refugee question. Gaza must be an integral part of the Palestinian state.
The Strategic Dialogue was initiated following President Abbas' successful visit to London in September last year.
Published 28 May 2014