First public property map - councils could save billions
A 'demo' map published today locates over 180,000 assets owned by almost 600 public sector bodies, including central government and 87 councils.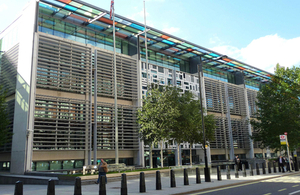 A 'demo' map published today locates over 180,000 assets owned by almost 600 public sector bodies, including central government and 87 councils. It reveals widespread public property ownership, beyond frontline services, underlining the scope for savings and the potential of a national asset map.
Public sector assets are worth an estimated £385 billion, with almost two thirds owned by councils. The government today committed to work with areas seeking to make savings through better property management. Government estimates this could potentially save £35 billion over 10 years.
Mr Pickles wants public sector organisations, including councils, to publish registers of all buildings and land owned. Local people could use the lists alongside the Localism Bill's new community rights to protect local treasures.
Mr Pickles believes the public have a right to see the sheer scale and variety of public sector asset wealth, which in some cases include pubs, farms and even sports clubs. The map reveals:
just over 18,000 of central government assets - land and buildings;
Hampshire County Council owns around 2000 hectares of farm land and property leased to private tenants;
over 130 cafes and restaurants, more than 100 pubs, around 60 theatres, over forty hotels including three Holiday Inns, about 20 cinemas and one airport in Southend are listed; as well as
nearly 100 golf courses, almost 30 sports stadiums including Swindon Rugby Club, Swindon Town Football club and Aldershot Football Club, a handful of horse riding centres, and one sailing club.
Results from 11 council led pilot projects, known as capital and assets pathfinders, found that on average 20% savings could be made by rationalising public assets or co-locating local services based on customer needs.
And a recent independent report found local government and the public sector could save up to £7 billion a year in operational costs through better property management. Annual running costs top £25 billion and the backlog of maintenance repairs has been estimated to be around £40 billion.
Eric Pickles said:
We need to know, now more than ever, exactly what assets are publicly owned. The general public probably have no idea of the sheer scale and scope of property and land on the public sector's books. In many cases it goes way beyond traditional frontline services.

I want the public sector to take a good hard look at what they own. By cataloguing each and every asset councils can help government find innovative new ways to utilise them, improve local services, keep council running costs down and save taxpayers' money.

This asset information also holds huge potential for local communities, offering an at a glance way to find that new meeting place or rescue the derelict tennis court round the corner.
The department has today published the results of the capital and asset pathfinder experience - where councils and Whitehall worked together to make better use of assets. They show savings could be made whilst improving provision of frontline services through measures like co-location.
Leicestershire councils and local public services are investigating ways to join up services and better co-ordinate asset use, with hubs being created in three of the districts, to provide cost and carbon emission reductions across the county;
Worcestershire Council discovered they were using 39 separate public buildings for public sector training and conferences. They are now looking at how to rationalise these to ensure better use;
Cambridgeshire are moving towards a single public sector approach where assets are managed locally to make savings and reduce carbon emissions. Early investigations suggest savings of up to £200million over 10 years may be possible;
Hampshire expects to reduce operating size and costs by a least a third in Winchester and Basingstoke by developing a single asset decision making hub across the local public sector. It will be overseen by a Joint Management Board of partners.
Communities Minister Baroness Hanham said the findings made clear that central government had a role to play too. Where savings could be made by bringing multiple services under one roof, one of the biggest barriers was lack of engagement from the Whitehall departments which owned the properties concerned.
Baroness Hanham said:
We have worked hard with the Pathfinder authorities to develop the concept of asset management. We are very grateful to all who have given their time and enthusiasm to this project. The Local Government Group will now take over from our department to help promote and extend the work that has been done and continue supporting local areas as they identify savings
Video
Watch a short video about the Capital Assets Pathfinder.
MS Word, 25 kb, 2 pages
Notes to editors
UPDATE 11 January 2013: Please note that the public sector assets map has been discontinued and all links to it will not work after 31 December 2012
The demonstration map can be found at: http://publicassets.communities.gov.uk.
The data behind the map can be downloaded from: http://webarchive.nationalarchives.gov.uk/20111004124814/http://publicassets.communities.gov.uk/dl/Final_Data_Cut_ext_download.zip. The use of this data is subject to Ordnance Survey OpenData terms: www.ordnancesurvey.co.uk/oswebsite/opendata/docs/os-opendata-licence.pdf.
The data has been provided by willing participants at a set time. This map is being published under the Public Sector Mapping Agreement as an interim measure. The department will continue to work toward publishing under the Open Government License in the future. Coverage is not complete and up to date information from the asset owners should be obtained before being used for decision making. DCLG makes no representations or warranties about the accuracy or completeness of the information. The items listed could represent land around the building, or land that the building is built on. The headline numbers are only indicative to get the complete picture contact the data supplier.
The government's position statement on assets can be found at: www.communities.gov.uk/publications/localgovernment/capassetsstatement201011.

Central Government assets recorded on a central database of Government Central Civil Estate properties and land: www.ogc.gov.uk/electronic_property_information_mapping_service.asp.

More information about Capital and Asset Pathfinder programme can be found at:
www.communities.gov.uk/localgovernment/decentralisation/capitalassets.

The Cabinet Office's State of the Estate report sets out how Whitehall is rationalising the central Government estate: www.cabinetoffice.gov.uk/resource-library/state-estate-2010.

Under the Community Right to Buy, local groups will have a legal right to nominate any vital community asset - including local shops, pubs, libraries and leisure centres - to be assessed for recording on a 'most wanted' list by the local council. The asset could then be listed for five years. In that time, the owner of a listed asset will have to tell the council if they intend to sell, which will trigger a window of opportunity or 'community countdown', giving people time to prepare their business plan and raise the funds they need to make a credible bid before it goes on the open market.
www.communities.gov.uk/newsstories/newsroom/1836598.

The new Community Right to Reclaim Land will help communities improve their local area by using disused publicly owned land for new development. The demonstrator map launched today will help communities locate opportunities in their area. www.communities.gov.uk/news/newsroom/1833125.

The findings of the Westminster Sustainable Business Forum research inquiry were launched on February 2nd by the Secretary of State for Communities and Local Government, The Rt Hon. Eric Pickles MP. The report shows how local government and the public sector can manage its property more efficiently, saving up to £7bn a year in operational costs and cutting carbon emissions. They can be found here:
www.policyconnect.org.uk/wsbf/report-launch-leaner-and-greener-delivering-effective-estate-management.

£385 billion Office for National Statistics Blue Book 2009: www.statistics.gov.uk/downloads/theme_economy/BB09.pdf.

£40 billion of backlog maintenance and £35 billion savings were estimated in the early phases of the project (Total/Place/Total Capital and Assets), and findings from the Pathfinder confirm the potential for this.

Annual running costs of £25 billion figure from Operational Efficiency Programme Report 2008.
Twitter
Keep up to date with the Department by following us on Twitter.
Media enquiries
Visit our newsroom contacts page for media enquiry contact details.
Published 5 August 2011