First Paralympic Agitos launched in Cardiff
Symbol for Paralympics unveiled ahead of Games.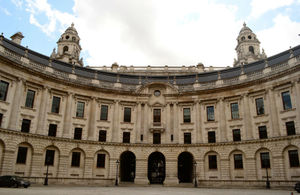 With less than two weeks to go until the start of the Paralympic Games, a giant Agitos has been launched outside Cardiff City Hall in Wales.
This is the first of five Agitos - the symbols for the Paralympic Games - that will be located throughout the UK in the run up to the Games.
The eight-metre-high Agitos will provide a stunning backdrop for Cardiff's celebrations on 22 August, when the Paralympic Torch Relay passes through the city.
Culture Secretary Jeremy Hunt said: "The first set of Agitos being raised in Cardiff symbolises the start of the whole of the UK welcoming Paralympic athletes from all over the world and expressing our excitement at hosting this incredible sporting event. We look forward to hosting the very best Paralympic Games ever, raising the bar for future host cities."
As part of the London 2012 Paralympic Torch Relay, a group of young disabled and non-disabled Scouts from local communities will climb the summit of Snowdon / Yr Wyddfa and use a ferrocerium rod to create the sparks that will light the flame for Wales.
The Flame will then be placed in a miner's lantern and transferred to Cardiff, where it will be the focus for a day of Paralympic celebrations.
A record 4,200 athletes from 166 countries are expected to compete at the London2012 Paralympics, including 291 British athletes.
Further information
Published 18 August 2012