First official visit to New York by Theresa Villiers MP
The Secretary of State for Northern Ireland , Rt Hon Theresa Villiers MP has highlighted the vital role that the United States of America has played in supporting the Northern Ireland peace process. On her first official visit to New York she made introductory calls on key figures in Irish America who have retained a keen interest in Northern Ireland matters.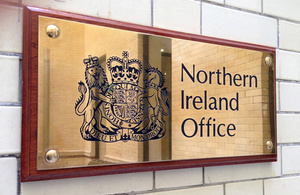 She said:
I welcome the commitment that successive US Governments and many Americans have given to Northern Ireland over the years. I am pleased to have this opportunity to highlight the progress that has been made in Northern Ireland and to set out my key priorities to rebalance the economy and to make Northern Ireland a safer place.
Notes for Editors
During her visit, the Secretary of State met representatives of the American-Ireland Fund, members of the New York Bar Association, and leading figures from the Irish-American political and business communities. During these meetings she gave an overview of her priorities in particular on working with the Northern Ireland Executive and the continuing co-operation with the Irish Government on a wide range of issues.
Ms Villiers was guest of honour at a lunch hosted by the UK Consul General, Danny Lopez. Guests included key American business leaders and entrepreneurs. Their discussion focused on the Northern Ireland Economy and the role of New York-based businesses, as well as an exploration of future plans and opportunities.
Published 25 October 2012