News story
First new design passport issued
Five-year-old Elliot Coutts-Miller was today issued the first new-look UK passport.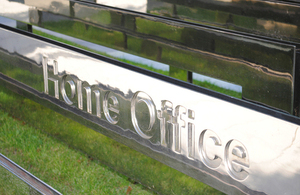 Elliot and his parents, from Stanwell Moore near Heathrow, applied for his passport in preparation for a family holiday.
He is the first person in the UK to have received the updated UK passport which went into production this week.
Updated design
Immigration minister Damian Green said: 'I am delighted Elliot is the first person to receive this new passport which has been redesigned to ensure it remains as secure a document as ever.
'The passport contains strengthened security measures, which includes designs of iconic images from across the nation, making the passport difficult to forge and helping ensure the British passport remains a highly trusted passport meeting rigorous international standards.'
Great new design
The five-year-old had special permission from his headmistress to collect the passport at the head office of the Identity and Passport Service in London.
Elliot said: 'I am very excited about my new passport.  I like the pictures, especially the butterfly.'
The new passport's pages contain images of well-known UK scenes, including the White Cliffs of Dover, the Gower Peninsula, Ben Nevis and the Giant's Causeway.
From December 2010 the majority of applicants applying for a passport should receive the new design, which will be phased in gradually from this month.
All applicants will receive the new version from October next year.
Published 7 October 2010