First members of WW1 Centenary advisory group appointed
Historians, novelists and former military chiefs among those selected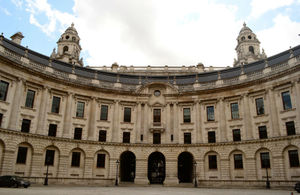 The first members of the prestigious First World War centenary advisory board have been announced today by Culture Secretary Maria Miller.
The board, chaired by Mrs Miller, will oversee and advise on plans for a nationwide programme of events and educational initiatives to mark the centenary in 2014.
Members include historian Professor Michael Burleigh, novelist Sebastian Faulks and Air Chief Marshall 'Jock' Stirrup, former Chief of Defence Staff.
£50 million has been committed from Government and National Lottery funds to support the commemorations, which include a major refurbishment of WW1 galleries at the Imperial War Museum.
"The advisory board with the expertise and enthusiasm it brings, will keep the work on track," the Culture Secretary said. "Everyone, especially schoolchildren, should get the chance to understand what happened all those years ago, how it came about and what it tells us about how we live our lives today."
Further members will join the group in future, including a Scottish Government representative, while others may be co-opted as and when required by the Chairman.
Members of the board
Pat Barker, novelist and author of the Regeneration Trilogy
Admiral Lord Boyce, former First Sea Lord, Chief of the Naval Staff and Chief of the Defence Staff
Professor Michael Burleigh, academic, author and historian
Sir Menzies Campbell MP
General Lord Dannatt, former Chief of the General Staff
Jeffrey Donaldson MP, Special representative for Northern Ireland
Sebastian Faulks, broadcaster, novelist and author of Birdsong
Field Marshal Lord Guthrie, former Chief of defence staff
Sir Deian Hopkin, Special representative for Wales and President of the National Library of Wales
David McDonough, Chairman of the PR consultancy The McDonough Partnership
Dr Andrew Murrison MP, the Prime Minister's special representative in the centenary planning
The Very Reverend June Osborne, Dean of Salisbury
Air Chief Marshall 'Jock' Stirrup, former Chief of Defence Staff
Brigadier Professor Hew Strachan, the Scottish military historian
Baron King of Bridgwater, former Defence Secretary
Keith Simpson MP, Member of Parliament for Broadland
Further information
Published 11 January 2013