First Meeting of the UK-Jordan Strategic Economic Dialogue
Representatives from the Government of the Hashemite Kingdom of Jordan, and the Government of the United Kingdom met in London on 21 May 2012 for the first meeting of the UK-Jordan Strategic Economic Dialogue.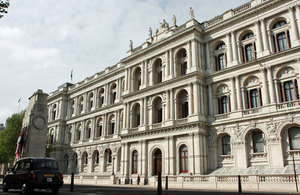 The Dialogue was launched last November by His Majesty King Abdullah II and UK Prime Minister, Mr. David Cameron, with the aim of strengthening economic cooperation between the UK and Jordan.
The UK Government was represented by the Foreign Office Minister responsible for the Middle East, Mr. Alistair Burt, and International Development Minister, Mr. Alan Duncan, in addition to senior officials from The Foreign and Commonwealth Office, Department for International Development, UK Trade and Investment and Her Majesty's Treasury.
The Minister of Planning and International Cooperation Jafar Hassan led the Jordanian delegation, which included the Ambassador of Jordan to the United Kingdom, Mr. Mazen Homoud, Secretary General of the Ministry and Trade, Maha Ali, and CEO of Jordan Enterprise Development Corporation, Mr. Yarub Qudah.
Private sector representatives from both countries participated in the dialogue showcasing sectors that hold potential for joint cooperation - including health, pharmaceuticals, energy, ICT, financial services, and industry.
The Dialogue outlined the Jordanian Government's efforts to advance economic reforms, enhance transparency and accountability; as well as the policies underway to enhance competitiveness, ensure inclusive and sustainable growth, while encouraging business development, and job creation. Both sides agreed the importance of these efforts continuing in order to ensure Jordan's future prosperity.
The Dialogue offered an opportunity to explore programs through which the UK can best support Jordan's development including, but not limited to, the Arab Partnership. In this context, both sides underlined the importance of focusing available resources to support Jordan's development priorities in the areas of youth employment, prosperity, small- and medium-sized enterprises and energy resource development.
The Dialogue additionally focused on fostering trade and investment opportunities between the two sides and enhancing trade agreements with the EU.
Both sides underlined the important role the United Kingdom plays in multilateral fora including the EU, the World Bank and as the upcoming President of the G8.
The UK and Jordan agreed to hold the second meeting of the Strategic Economic Dialogue in Amman in 2013, and to hold a Business Forum that would bring together key private sector partners in the fourth quarter of 2012.
Published 21 May 2012