World news story
First meeting of the Turks and Caicos Government Audit Committee
The Governor was in attendance at the first meeting of the TCI Government Audit Committee on Thursday, July 24, in Grand Turk.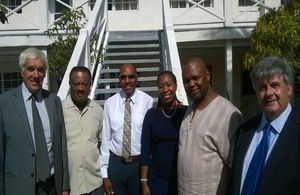 As a result of several well reported corporate failures around the world, various Corporate Governance Codes place greater responsibilities on Executive Boards in both the public and private sectors. These Boards are now more clearly tasked with setting the organisation's risk appetite and ensuring that controls are in place to manage risk within this. The Audit Committee is a crucial mechanism in supporting the Governor and Cabinet in meeting these obligations.
Addressing the Committee at its first full meeting, Governor Beckingham said: "The Audit Committee will be an important addition to the oversight aspect of the governance framework in TCI. The role of this Committee is a challenging one, and it needs strong, independent members who are able to apply their wide range of skills and experience." Members of the Board are non-executive (i.e. drawn from the private sector,) and the Governor added: "The Committee is an excellent example of how the knowledge and expertise of the private sector can assist the public sector in meeting the significant challenges it faces."
Within TCI there are two key Governance and finance related Committees. The first of these is the Public Accounts Committee, who are elected members of the House of Assembly and focus on assurance arrangements over financial reporting, annual report and accounts and value for money. Secondly the Audit Committee, who are appointed by Cabinet and are all non-executives as required under the Corporate Governance Code and primarily focus on ensuring there is adequate and effective governance, risk management and assurance frameworks in place across TCIG.
Published 29 July 2014