Press release
First government mutual joint venture goes live
The first ever public sector mutual joint venture was officially created today: it will offer over 475 staff at My Civil Service Pension co-ownership of their organisation.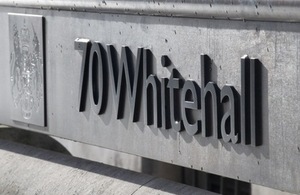 The first ever public sector mutual joint venture was officially created today: it will offer over 475 staff at My Civil Service Pension (MyCSP) co-ownership of their organisation.
The MyCSP business model, where front line staff are given more freedom and control over their work, represents one of the major reforms in the government's drive to open up public services and centralise power from Whitehall. 
The Minister for the Cabinet Office, Francis Maude, met staff as the new Employee Partnership Council convened for the first time at the Liverpool office. The Council includes six employee representatives directly elected in a vote backed by a large majority of staff. To signal its intention to become a dynamic and responsible business, MyCSP announced a significant plan to engage with the local community. The scheme '1+1+1', commits the new organisation to provide:
1% of net profits to employee partners' selected charities and community projects
1% of partners' time to engage in local charity and community projects
1% of total headcount to be offered for apprenticeships and interns
The Mutual Joint Venture model differs from outright employee ownership. MyCSP will eventually be owned and run by 3 partner organisations:
the staff mutual
the government
a private sector partner 
This gives staff more control, ensures tax-payers benefit from profits and brings in crucial business expertise and investment.
Francis Maude, Minister for the Cabinet Office, said:
MyCSP busts the old fashioned choice between state control and privatisation. It is a partnership which brings together the strengths of all the sectors and gives front line staff clout when decisions are made.

The evidence is clear, when staff have a stake in their business productivity rises and innovation flourishes. Mutuals are more stable than other businesses and just as profitable. This means a better service, better value for tax-payers and more rewarding careers for employees.

The Mutual Joint Venture model has great potential to compete with a diversity of providers such as businesses, charities, other types of mutuals and co-operatives creating real choice for citizens and driving up standards. Moving power as close as possible to the people who use services is fundamental to our Big Society agenda. 1+1+1 is a great start that will help this business become part of the community.
Phil Bartlett, Employee Leader and Chief Executive of MyCSP said:
It's rare to hear so much excitement around pension administration but the mutual idea has captured peoples' imagination. We're proud to be pioneering this approach, there's a real sense that we're grasping the opportunity collectively build the premier supplier of pension administration in the UK's public sector.

What we're doing fundamentally builds on the strong foundation of Public Service Ethos and vocation. 1+1+1 captures the heart of the agenda and engagement of employee partners within the broader community. This is a pragmatic demonstration of inclusive Big Society thinking making a difference in the local community in practice.
Deborah Hopwood, MyCSP employee partner and a civil servant with 25 years of experience, said:
Moving into a mutual makes you realise some of the constraints that working within the government framework brings: being a mutual removes these. It's exciting to be empowered to make a difference.
A tender process to select a private sector partner which can offer equity and business expertise is well underway. On 3 June, 50 potential partners heard of the new business model plans. Subsequently, 14 high quality responses were received from a range of Pension Administration providers and consortia. It is now announced that Xafinity, Capita, JLT and Wipro have been short-listed.
The government is supporting the development of a range of mutual and employee ownership models in public service delivery. The Open Public Services White Paper, published on 11 July, sets out how the government will improve public services. It aims to put choice and control in the hands of individuals and neighbourhoods and build public services which are more responsive to peoples' needs.
Notes to editors
The government is developing mutual models through the Mutual Pathfinder programme which is supporting 21 existing and potential mutuals with mentoring and advice from experts in employee ownership. In addition, every department will put in place 'rights to provide' giving staff new powers to form mutuals.
Published 20 July 2011