News story
First finding of disease caused by avian reovirus in a wild bird in GB
GB Wildlife Disease Surveillance Partnership confirms the first finding of disease in a wild bird caused by avian reovirus.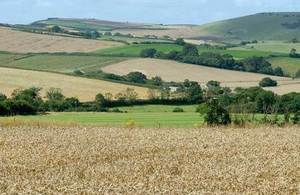 Working as part of the Defra-funded GB Wildlife Disease Surveillance Partnership, vets and scientists from the Animal and Plant Health Agency (APHA) and Zoological Society of London (ZSL) have discovered the first finding of avian reovirus (ARV)-associated disease in a wild bird in Great Britain.
Following the death of a magpie in a garden in Buckinghamshire, post-mortem examination and detailed laboratory testing confirmed the presence of ARV, which had caused severe necrosis of the liver and spleen, and was identified as the cause of death of the bird.
Two further magpies were observed with similar illness at different times at the same site. These birds were presumed to have died, but their carcasses could not be recovered for further investigation.
Richard Irvine, Head of Scanning Surveillance at APHA, commented:
"Avian reoviruses can cause a range of disease presentations in poultry, captive and wild bird species, and until now ARV has not been reported as a disease of magpies or other wild birds in Great Britain.
"Continued veterinary surveillance activities, performed in partnership, help us to identify changes in the patterns of livestock and wildlife health, including novel disease presentations such as this.
"By raising awareness of this finding any threats posed to other wild birds or poultry can also be managed."
Becki Lawson, Research Veterinarian at ZSL's Institute of Zoology added:
"ARV causes disease and mortality in wild corvid (crow family) species in North America and continental Europe. Due to the vigilance of the British public, this is the first identified case in the UK.
"We would like to appeal for any dead or sick garden wildlife (amphibians, reptiles, hedgehogs or garden birds) to be reported to us via www.gardenwildlifehealth.org."
The full paper is available on the BMC Veterinary Research website
The GB Wildlife Disease Surveillance Partnership (GBWDSP) brings together organisations that are involved in wildlife disease surveillance to monitor trends in wildlife diseases. See the wildlife disease surveillance reports.
Published 10 March 2015