First female Merlin aircrewman completes helicopter fast-roping instructors course
Leading Aircrewman Sarah Christenson from 820 Naval Air Squadron, a Merlin helicopter squadron based at Royal Naval Air Station Culdrose, has become the first ever female Merlin aircrewman to successfully complete the helicopter fast-roping instructors course.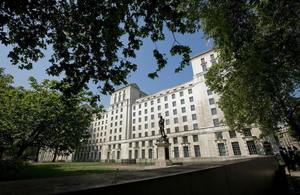 Fast-roping is a technique used to deploy lightly-equipped troops rapidly into confined areas where helicopters cannot land.
The technique involves the fast-roper, wearing special gloves, sliding down a rope suspended from a helicopter hovering at heights of up to 85ft (26m). Only the fast-roper's gloved hands are in direct contact with the rope.
Leading Aircrewman Christenson completed the course with a number of descents and despatching others from one of 820 Naval Air Squadron's Merlins at Culdrose last week.
Royal Marines Colour Sergeant Pete Curley, chief roping instructor based at RAF Brize Norton, was the trainer for the course. He said:
I had the pleasure of awarding a helicopter fast-roping instructors certificate to Leading Hand Sarah Christenson. Previous applicants have not achieved this award due to the strength and confidence required to conduct this type of training.
Sarah showed both of these in abundance and even put a couple of other (male) members of the squadron to shame. Sarah impressed me and her peers and I hope she gets plenty of opportunity to carry out training with other troops.
Commander Jason Phillips, Commanding Officer of 820 Naval Air Squadron, said:
Five members of the squadron gained their helicopter fast-roping instructors qualification this week, enabling the squadron to remain at readiness for a huge variety of tasking across the globe, some of which could involve roping troops from the aircraft.
Published 5 October 2011