First female bandmaster for Household Cavalry
Warrant Officer Class 1 (WO1) Esther Freeborn is to become the first female bandmaster in the history of the Bands of the Household Cavalry.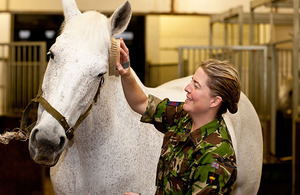 WO1 Freeborn has been completing the final days of her training in London to become a member of the world-famous Band of The Life Guards.
She has spent the last five months at Hyde Park Barracks learning all the skills a cavalry soldier needs, from basic riding, to mastering cavalry drill movements and riding in ceremonial uniform.
Today, her family and friends will watch proudly as she takes part in a passing out parade to mark her successful completion of the course.
While there are female musicians in both the Band of The Life Guards and the Band of The Blues and Royals, which come together from time to time, mounted or dismounted, as the Massed Band of The Household Cavalry, WO1 Freeborn is the first woman to take up the post of Bandmaster in either band, or indeed the entire Household Division, which also comprises The Foot Guards.
She explained, however, that she had been more daunted by the riding course than by the historic nature of her appointment:
It's an extremely intensive course, so it's quite stressful because they do push you and push you," she said.
It's long days, very physical; you're on your feet all day. But there's immense gratification from what you've achieved. I'm a competent horse rider now. And there's an amazing camaraderie; you all end up talking about horses, all the time.
It's quite unusual to do this course as a Warrant Officer, as most people do it as a Trooper [the lowest Cavalry rank]. Effectively you're a trainee again, which is strange, because as a Warrant Officer you're at the top of your game.
I knew the course was going to be a challenge at my age. You see the 18-year-olds hurting and you think 'try it 15 years later!'
I've fallen off quite a few times," she admits, "but you have to show them you can soldier on, whatever happens.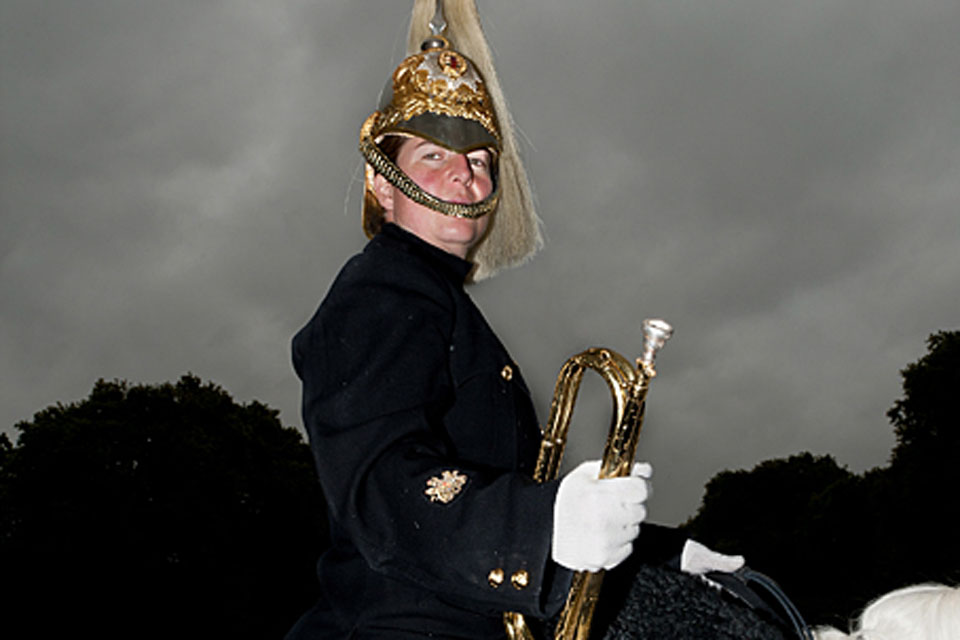 WO1 Freeborn will officially complete the so-called 'Kit Ride' today, a five-week course that teaches participants how to ride in ceremonial uniform. It follows the 14-week 'Khaki Ride', which is the basic equitation course.
WO1 Freeborn said:
I'd ridden as a child but stopped at about 10 years old, so really I started from scratch. There was a lot of new information; you have veterinary lessons, learn the anatomy of the horse, the grooming and stable management, mucking out, different bedding, feeds etc. On top of that there's the management of all the kit, maintaining it and polishing it up to the standard required for inspections.
As a flautist, WO1 Freeborn plays the piccolo on parade, so in addition to getting to grips with riding in the elaborate ceremonial uniform, she has had to master the art of riding with an instrument in hand. She said:
When you start riding in the ceremonial kit it's really quite dismaying because it feels like you're starting all over again. I also had to practise with the trumpet to get used to holding an instrument. You don't have much reign control. I've had to throw it away a couple of times to sort myself out.
WO1 Freeborn joined the Territorial Army (TA) at the age of 19 and later decided to join the Corps of Army Music as a Regular:
I became involved after seeing an advert in a music shop saying 'get paid for your hobby' which was for the TA - the old volunteer Warwickshire Band of The Royal Regiment of Fusiliers," she said.
I joined them and absolutely loved it. It went so well that I gave up all my other jobs, working in shops and pubs. And I loved the Army stuff too, what we call the 'green stuff' - learning how to shoot, the medical training etc.
Later I was accepted for a bursary from the Corps of Army Music to go through university, which was fantastic. Flute playing is very competitive and it's difficult to make a living so I was the only person in my year to graduate with a job in music.
WO1 Freeborn was selected for the three-year Student Bandmasters Course, one of the longest and most challenging courses in the Army, which, regardless of their rank at the start, sees students leave at the rank of Warrant Officer (the top Non-Commissioned Officer rank). She said:
I've completed the Bandmasters Course, which is extremely demanding, so I have no qualms that I shouldn't be here. My first Bandmaster's post was with the Band of The Parachute Regiment so I've felt and done the apprehensive bit already; I don't really feel I have anything to prove.
As she prepares to begin the next phase of her career WO1 Freeborn explained how she is looking forward to all aspects of the job, from taking part in state occasions to the less glamorous day-to-day routine of a mounted band member:
It's early mornings and late nights, but I quite like the routine; it's comforting in a funny kind of way," she said.
I enjoy the stable management side of things too. I like working outside and I've decided I'd like to own my own horse one day. I'm also really looking forward to taking part in Trooping the Colour. I've come down for rehearsals and seen them riding down Horse Guards, and it's brilliant to see all the passers-by stopping and taking photos.
Published 15 September 2011