First ever North Korean Paralympian visits the Foreign Office
Foreign Office Minister Hugo Swire has welcomed the first ever North Korean Paralympian to the UK today.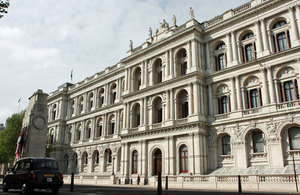 Speaking afterwards the Foreign Office Minister said:
"It was a pleasure to meet Mr Rim Ju Song today. As North Korea's first Paralympian he is an example of how sport can transcend political boundaries. I hope he will be the first of many participants in the Paralympic Games from North Korea.
"The UK has worked closely with the North Korean National Paralympic Committee, in providing advice and support on sending athletes to the Paralympic Games. In our meeting today we discussed the future of that work and opportunities and rights for people for disabilities in North Korea."
Published 6 September 2012