Press release
First ever legislative elections in Guinea
UK welcomes first ever democratic legislative elections in Guinea, which are a big step forward in Guinea's democratic development.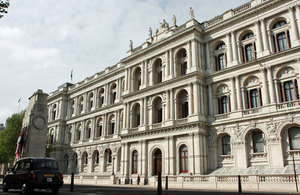 A Foreign and Commonwealth Office spokesperson said:
The UK welcomes the first ever democratic legislative elections in Guinea, held on 28 September. Although long delayed, they represent a significant step forward in the development of Guinea's democracy and we congratulate the people of Guinea for voting peacefully and in such large numbers.

We also congratulate Guinean politicians for coming together, facilitated by UN Special Representative Said Djinnit, to resolve their differences so the elections could finally take place.

As we await the results, we encourage Guinea's politicians to maintain the same calmness and responsibility shown by the people of Guinea during voting. Peaceful legislative elections will make it easier for Guinea to attract more good quality international investment.

Following the peaceful completion of these elections we will redouble our efforts to encourage more UK investors to join those already in Guinea, helping to develop its potential.
Further information
Follow the Foreign Secretary on twitter @WilliamJHague
Follow the Foreign Office on twitter @foreignoffice
Follow the Foreign Office on facebook and Google+
Published 1 October 2013