First ever global midwifery report published
Up to 3.6 million deaths could be avoided each year in 58 developing countries if midwifery services are improved by 2015, according to a major new report launched today by UNFPA, the United Nations Population Fund.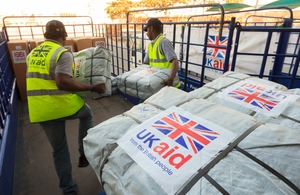 The first ever State of the World's Midwifery report, coordinated by UNFPA, is the result of collaboration among 30 partners including the Department for International Development. The collective aim is to strengthen midwifery practices to prevent maternal death and disability and improve the health of newborns, families, and entire communities.
Launched today at the Triennial Congress of the International Confederation of Midwives in Durban, South Africa, the report unveils new data confirming there is a significant gap between the number of midwives practising and those needed to save lives.
Each year, 358,000 women die while pregnant or giving birth, some two million newborns die within the first 24 hours of life and there are 2.6 million stillbirths, all because of inadequate or insufficient health care.
The report reveals that, unless an additional 112,000 midwives are trained, deployed and retained in supportive environments, 38 of 58 countries surveyed might not meet the Millennium Development Goal target to achieve 95% coverage of births by skilled attendants by 2015.
The report adds that up to 90% of maternal deaths could be prevented if midwives were in place and could refer the most severe complications to specialized care.
What the UK is doing
UK aid will help to save the lives of at least 50,000 women during pregnancy and childbirth and 250,000 newborn babies. We will support at least two million safe deliveries, ensuring long lasting improvements in quality maternity services.
For example, in Ethiopia we will support over 500,000 pregnant women to deliver their babies with the help of nurses, midwives or doctors. Over the last five years in Ethiopia, with support from the UK and other donors, more than 34,000 health workers have been trained and deployed across Ethiopia's population of 80 million people.
UK aid is also supporting the Royal College of Obstetrics and Gynaecology to provide emergency obstetric care training to midwives and doctors in Kenya, Sierra Leone, Zimbabwe, Bangladesh and India. By the end of 2010, 2,000 healthcare providers had been trained.
Published 20 June 2011