Press release
First central government mutual launched
MyCSP Ltd, the first mutual created from a central government service was launched today by Francis Maude.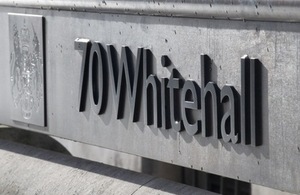 CAB 027-11 
MyCSP Ltd, the first 'John Lewis style' business created from a central government service was launched today by Francis Maude, Minister for the Cabinet Office. MyCSP Ltd's innovative Mutual Joint Venture model gives employees a 25% ownership stake, representation at board level and a share in profits. The new enterprise will be contracted by the Government to administrate pensions for the 1.5million members of the Civil Service scheme. It will cut costs for taxpayers, reaching annual savings of 50% by 2022, while improving the service.
The Equiniti Group's Paymaster business has been announced as the winner of the hotly contested tender to join the venture with a 40% stake. Paymaster brings business expertise and capital investment. The Government retains a 35% stake so taxpayers benefit as the business grows in value.
Francis Maude also announced today that former Cabinet Minister, Lord Hutton of Furness, will be the first Chairman of MyCSP Ltd. As such, Lord Hutton takes a leading role in the Government's plan to hand greater ownership, responsibility and power to the people running public services. Mark Lund, the former Chief Executive of St. James's Place Capital PLC, will Chair the MyCSP Ltd Employee Partnership Trust charged with protecting the employees' interests.
Francis Maude said:
We no longer face a binary choice between public services delivered by state monopoly and straight privatisation. That is why I am a passionate supporter of mutuals which will help Britain grow a more diverse economy.

As a mutual, MyCSP will deliver better services for its pension scheme members, millions of pounds of savings for the taxpayer and a real sense of ownership for employees over what they do.

We are transforming a neglected back-office operation into a new competitive and responsible business - the rest of the world is watching.

Lord Hutton brings a real wealth of experience to his role as Chairman and I'm delighted he has accepted this role.
Lord Hutton, Chairman of MyCSP, said:
I am a firm believer in the power of engaging employees to drive innovation. MyCSP Ltd builds a powerful partnership that will drive up standards and reduce costs. Providing a high quality service to scheme members will be vital to ensuring they never lose sight of the true value of their pension. I am proud to accept a role in this ambitious project.
Paul Bingham, Managing Director of the Equiniti Group's Paymaster business said: 
The mutual model is a great idea, with a great future, and one which Equiniti Group is excited to be part of. Our experience looking after 2.9 million pension scheme members and working with more than half of the FTSE 100 makes us the ideal private sector partner in this ground breaking arrangement.  We share the same desire as MyCSP to offer a fantastic service to customers and to make our mutual joint venture a template for others to come - a focus which will make this business a commercial success.
Stephen Kelly, former CEO of successful FTSE and NASDAQ companies was today appointed as the Government's nominated Board Director, said:
With Lord Hutton's leadership I have complete confidence that My CSP will succeed. The mutual joint venture model can open up employee ownership as an option for thousands of public services which would simply not be viable as a traditional mutual. Forming partnerships with the private sector can give mutuals the capital backing and business expertise they need to thrive and grow. This means more benefit from the improved productivity and customer satisfaction mutuals are proven to generate.
Phil Bartlett, CEO of MyCSP Ltd, said:
The launch of MyCSP Ltd is an extraordinary achievement and paves the way to meeting the challenges, and grasping the opportunities that lie ahead. We have a lot of work to do but for the first time we have the backing and resources to build the excellent service that we've always aspired to. I welcome Paymaster to our new partnership and thank the employee partners who have over the last year delivered real improvements despite the pressures of reform.
MyCSP Ltd is a pathfinder at the cutting-edge of public service reform. Such innovations are vital to protecting frontline services while helping to bring public spending back under control. A diverse and innovative marketplace will increase competition and outcomes. Research shows that competitively tendering public services typically produces between 10% and 30% savings, while maintaining or improving standards.
Pioneering better business models, such as the Mutual Joint Venture, is critical to keeping Britain's public service industry ahead of global competition. Growing demand for public services in economies such as China, India and Brazil, will create significant new opportunities in a market which British businesses lead. In 2010, the UK public administration, education and health industry sector balance of trade switched from a deficit of £154 million in 2009 to a surplus of £304 million.
MyCSP Ltd is the first central government mutual but many already operate successfully in the wider public sector. Over £1billion of health services are provided by mutuals. Evidence suggests that employee ownership can boost productivity by up to 19%. John Lewis, one of Britain's best known mutuals, continually tops customer satisfaction polls and has half the average staff turnover and sickness absence of the retail sector. The Government is supporting public servants who want to form mutuals with a £10million Mutuals Support Programme and Mutuals Information Service and hotline 0845 5390543.
Notes to Editors
1. MyCSP Ltd has been awarded the contract to administer the Principal Civil Service Pension Scheme for seven years, with an option to extend for a further three years, after which the contract will be retendered. MyCSP Ltd has 500 Employee Partners in offices in Cheadle Hulme, Liverpool, Newcastle, Worthing, Basingstoke and Leeds. The 25% employee stake is managed by the MyCSP Employee Partnership Trust Chaired by Mark Lund. The Trust appoints a Non Executive Director onto the Board of Directors and will pay employee partners a dividend from profits annually. An Employee Partnership Council has been elected through a ballot in which 76% of employees voted. The Council is chaired by an elected member and has a seat on the executive management board chaired by the CEO. The Employee Partnership Council is also responsible for the company's corporate social responsibility scheme called 1+1+1. It commits the company to: donating 1% of net profits to charity; volunteering 1% of employee partners' time to community projects; and reserving 1% of total headcount for apprenticeships and interns. In addition, the Chief Executive's salary will be capped eight times the organisation's average salary to ensure that there will be no inflated payouts to management. The capital investment provided by Paymaster will enable MyCSP Ltd to replace outdated technology, leading to service improvements and greater efficiency. For further information please see MyCSP.co.uk.
2. Equiniti Group is a leading business services provider delivering complex administration and payment solutions to over 2,000 clients in the UK public and private sectors. Operating through a number of specialist brands, the Group provides a range of pension and HR services and is the leader in the UK share registration market. Paymaster, Equiniti Group's pension administration business, is partnering with MyCSP and holds a 40% share alongside employees and the Government in return for its investment of people, cash, technology and expertise. Paymaster has been making payments for 175 years, and today pays over £13 billion per annum to pensioners, dependants and annuitants in 180 countries worldwide. Equiniti Group has over 3,000 employees in 22 office locations and supports over 2,200 clients in both the public and private sectors including 50% of the FTSE.
3. MyCSP Ltd is a member of the Employee Ownership Association which acts as the voice of co-owned business in the UK - a network of over a hundred companies with significant employee ownership and a sector of the economy worth over £30 billion annually. The Association's role is to serve its member companies and promote the growth of employee ownership in the UK. Members include co-owned Gripple, Childbase, John Lewis, Waitrose, Unipart and Arup, plus a host of successful enterprises from many sectors of the economy. For further information visit www.employeeownership.co.uk or contact The Employee Ownership Association press office: 020 7922 7762 / 07944 381743 or sam.dowling@employeeownership.co.uk
4. Stephen Kelly leads work to develop better business models for public services as Crown Commercial Representative for Mutuals. Increasing the diversity of providers will improve competition generating better outcomes and better value for money.
5. In 1992 John was elected to the House of Commons as the Member of Parliament for Barrow and Furness. He was re-elected in 1997, 2001 and 2005. He stood down from Parliament at the 2010 general election. During his time in Parliament, he held several Cabinet level positions. He was made Secretary of State for Work and Pensions (DWP) in 2005, Secretary of State for Business and Energy in 2007 and served finally as Secretary of State for Defence between 2008-9. In 2010 he was made a life peer and took the title Lord Hutton of Furness.
6. Mark Lund was Chief Executive of Honister Capital Limited between 2008 and 2011. He Joined as CEO of Money Portal and led a successful turnaround of the then loss making business to one which has just delivered a first operating profit of £5m. From 2004 Mark was Chief Executive of St. James's Place Capital PLC one of the fastest growing FTSE 250 companies with more than 500 employees and 1,150 financial advisers. In 2000 he was appointed Chief Executive of JP Morgan Fundshub, a joint venture B2B start-up company backed by JP Morgan. He held several senior roles at Henderson Investors plc/AMP Group between 1991-2000 prior to which he worked as a consultant for Booz Allen/Spicer Oppenheim and an Economist for Transmark (British Rail). Mark is Fellow RSA, Affiliate CFA and Chartered Fellow of the Chartered Institute for Securities & Investment.
Published 30 April 2012