First business study tour from Uzbekistan to the UK
A group of entrepreneurs from Uzbekistan visited a number of companies and business-accelerators in the United Kingdom.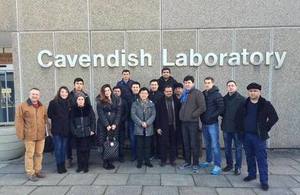 A group of entrepreneurs from Uzbekistan have returned from the first business study tour to the United Kingdom, organized by the British Embassy in Tashkent, Association of International Business and Technologies and Afisha Media.
With the support of the British Embassy, the delegation was accompanied by a media crew to capture their experiences in the United Kingdom such as meeting various British companies, gaining an understanding of best practices in the areas of science, technology and innovation, as well as getting acquainted with British heritage and culture, education and lifestyle.
During their one-week stay in the United Kingdom, the entrepreneurs had a chance to visit several UK business accelerators, companies and institutions including:
Innovation Warehouse – provides coworking space, a community and runway for businesses looking to achieve sustainability and high growth
BBC Worldwide LABS – BBC project aimed at supporting dynamically developing digital media-companies in the UK
L39 – the biggest business-accelerator in Europe in the sphere of financial services, building the cities of the future and cyber-security.
BHS Headquarters – one of the major retailers in Britain
London Stock-Exchange – one of the 3 largest stock exchanges in the world
Institute of Export – professional membership body representing and supporting the interests of everyone involved in importing, exporting and international trade
Cambridge University – one of the best universities in the world
University of St Andrews – one of the top 5 universities in the UK
Throughout the entire business study tour, the media crew used short videos and photographs to share their UK adventure with the wider public via Facebook and Instagram. In a few weeks time online broadcasting of the full-length video series will be launched when the audience will have an opportunity to get the full picture of the experience the delegates had during their stay the United Kingdom.
Published 6 February 2016