First British soldiers pass female engagement course in Helmand
Two British female soldiers serving in Helmand have become the first to complete the United States Marine Corps' Female Engagement Team course.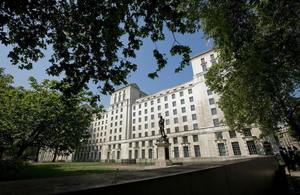 The all-female course focuses on methods of interaction with the local Afghan female population, and how to foster relationships and gain the trust and support of Afghans whilst patrolling with infantry soldiers.
Army administrator, Lance Corporal Jennifer Garraway, and Army medic, Lance Corporal Nicola Murray, both serving with 1st Battalion The Royal Regiment of Scotland in Helmand province, attended the nine-day Female Engagement Team (FET) course at the United States Marine Corps base of Camp Leatherneck, near Camp Bastion.
The British soldiers were fully embedded; working, living and eating with 50 female Marines from across Helmand province.
The course is culturally important to operations in Afghanistan as Afghan women are not allowed to be greeted or spoken to by males outside their family; therefore male members of the military are unable to access approximately 51 per cent of the Afghan population.
Lance Corporal Garraway said:
Afghan women have a significant influence on their families and communities, and their influence is often reflected in the behaviour of their children and husbands.
The course also consisted of patrolling skills, radio procedures, medical training, ranges, physical training and martial arts.
Lance Corporal Garraway, a Combat HR Administrator from the Adjutant General's Corps, and Lance Corporal Murray, a Combat Medical Technician from the Royal Army Medical Corps, joined only 28 female Marines at the graduation ceremony as not all students made it through the gruelling nine-day course.
Both soldiers will now form a FET within a newly-formed infantry rifle company from 1st Battalion The Royal Regiment of Scotland in a ground-holding role in Combined Force Nad 'Ali in Helmand over the next four months.
Published 24 May 2010