First annual limit on non EU workers comes into force to bring down immigration into the uk
The first major change to reduce immigration into the UK has been delivered today as the government's new annual limit comes into force.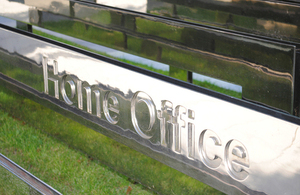 The first major change to reduce immigration into the UK has been delivered today as the government's new annual limit comes into force.
This along with radical changes recently introduced to the student route and plans to tackle permanent settlement will see net migration fall back down to the tens of thousands.
Under the annual limit, employers will only be able to bring 20,700 people from outside the EU to work in skilled professions under Tier Two of the system.
A further 1,000 visas will also be made available to people of 'exceptional talent' to ensure that Britain remains open to the brightest and the best.
The 1,000 exceptional talent visas will be given to those whom experts believe will make the biggest contribution to science and the arts in the UK.
To ensure that only those with the skills we need can come to the UK to work, prospective workers will need to have a graduate level job, speak an intermediate level of English and meet specific salary and employment requirements.
Those earning a salary of £150,000 or more will not be subject to the limit.
Immigration minister Damian Green said: ''The annual limit will not only help reduce immigration down to sustainable levels but will protect those businesses and institutions that are vital to our economy.
 
'The new system was designed in consultation with business. We have made clear that as the recovery continues, we need employers to look first to people who are out of work and who are already in this country.
 
'We are overhauling all routes of entry to tackle abuses, make the system more effective and bring net migration back down to the tens of thousands.'
The Intra Company Transfer route (ICT), which is not part of the annual limit, will also be changed in three ways:
the job will have to be in an occupation on the graduate occupation list;
only those paid £40,000 or more will be able to stay for more than a year. They will be granted for three years with the possibility of extending for a further two;
those paid between £24,000 and £40,000 will be allowed to come to the UK for no longer than 12 months, at which point they must leave and will not be able to re-apply for 12 months.
Also, from today, Tier One of the Points Based System will be restricted to all but entrepreneurs, investors and people of exceptional talent as the old (general) category has been completely abolished due to widespread evidence of abuse.
The 'exceptional talent' route will be open to current and prospective leaders in the fields of science, engineering and the arts and will allow us to continue to facilitate those who have the most to offer the UK.
Under the new visa rules for investors, those who invest large sums of money will see their right to settle permanently in the UK speed up. Those who invest £5m will be allowed to settle here after three years and those that invest £10m or more will be allowed to settle after two. This compares with the minimum five year requirement that is currently in place.  Entrepreneurs will also be able to settle in the UK more quickly if they create ten jobs or turn over £5m in a three year period.
Damian Green added: 'We are sending out a clear message – the UK remains open for business and we want those who have the most to offer to come and settle here.
'Entrepreneurs and investors can play a major part in our economic recovery and I want to do everything I can to ensure that Britain remains an attractive destination for them.
'Last year we issued far too few visas to those who wish to set up a business or invest in the UK – I intend to change that.'
Notes to editors
1.   Damian Green is offering a unique opportunity for the public to ask him questions about the new rules for workers. Questions should be emailed to the Minister at asktheminister@homeoffice.gsi.gov.uk by 20 April or posted via Twitter using @ukhomeoffice and the hashtag #askdamiangreen
 
2.   A film of the Immigration Minister's answers will be posted on the Home Office website and Youtube channel  after the closing date.
 
3.   Watch, or embed in your website, a Youtube clip of Damian Green asking for questions on new rules for non-EU workers using the link below.
 
4. The full details of the changes to applications under Tiers 1 and 2 of the points based system can be found on the UK Border Agency website

Published 6 April 2011