First Airbus arrives in UK for conversion into RAF Voyager
Cobham Aviation Services has received the first of 12 Airbus Military A330-200 aircraft at its Bournemouth facility for conversion into 'Voyager', the Future Strategic Tanker Aircraft for the Royal Air Force.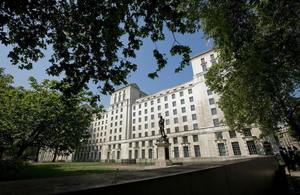 In recognition of this programme milestone, Cobham Aviation Services hosted an opening ceremony on Friday for its newly-refurbished A330 Conversion Centre at Bournemouth International Airport.
The first two Voyager aircraft underwent conversion at Airbus Military's facility in Getafe, Spain.
The remaining 12 future Voyager aircraft, a variant of the A330 Multi Role Tanker Transport, will be converted at the Bournemouth facility.
In all, the RAF will operate a fleet of 14 Voyagers by the second half of this decade to replace its existing fleets of TriStar and VC10 aerial refuelling aircraft.
Representatives from the UK Ministry of Defence, Airbus Military, AirTanker and other key companies attended, including Air Marshal Kevin Leeson, Chief of Materiel (Air), who said:
The conversions carried out at this tremendous new Cobham facility will turn Airbus A330s into the most capable military tanker transport aircraft of its type in the world, the third of which we are celebrating the arrival of.
Voyager will provide enhanced levels of availability, reliability and comfort for its passengers. Its 4,000-mile [6,400km] range, carrying 285 passengers and freight, will allow the UK to respond to world events with great speed.
The air-to-air refuelling systems will provide access to an impressive 111-tonne fuel capacity and enable Voyager to refuel a large variety of platforms, from Typhoon jets to A400M transports.
The Voyager conversion effort will create and maintain in excess of 100 direct jobs at Cobham into 2016, to be further increased through indirect jobs.
The activity also provides an excellent opportunity to train graduates and apprentices and help prepare them for a career in aerospace engineering.
Des Taylor, General Manager of Cobham Aviation Services, said:
Cobham looks forward to playing a key role in the AirTanker supply chain by providing and embodying its state-of-the-art air refuelling systems into the very capable A330 platform.
Under this five-year contract, Cobham has created more than 100 new, high-tech jobs in the Bournemouth area, including graduates and apprentices, to ensure that the RAF receives a 21st century in-flight refuelling capability.
Published 5 September 2011