First 2012 Cabinet meets at Olympic Park
Ministers mark 200 days to the Games by visiting venues to be used this summer.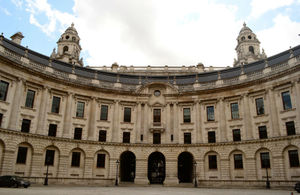 The Prime Minister has today hosted the first Cabinet meeting of the year at the Olympic Park to discuss how the Government can secure maximum benefit from the Games.
With just 200 days until the opening ceremony of the Olympics, David Cameron said he wanted ministers to focus on making this the best Games ever.
"As we kick off 2012, the year of the Olympic and Paralympic Games and the Diamond Jubilee, this is the perfect time for the Cabinet to come together and ensure we are doing absolutely everything we can to make the most of this unique opportunity to showcase all the great things the UK has to offer to the rest of the world," the PM said.
This afternoon a number of Government ministers visited businesses, sports facilities, schools and organisations around the UK to see first-hand how London 2012 will benefit the whole country.
Olympics Minister Hugh Robertson was in Durham to hear the County Cricket Club's plans for future development and its work bidding to be a pre-Games training camp, before heading to Deerness Leisure Centre for a display by the Deerness Gymnastics Academy. Tourism Minister John Penrose met staff at Wolverhampton firm Zaun Fencing, which designed and installed the security fence around the Olympic Park and is hoping to use this experience to secure contracts for the 2016 Games in Rio and the Commonwealth Games in Glasgow.
Future of venues secured
The meeting came as the future ownership of three more Olympic venues - the Aquatics Centre, Handball Arena and ArcelorMittal Orbit - was confirmed, creating hundreds of future jobs and opportunities for small businesses. Post-Games operators have now been secured for six out of eight of the permanent Olympic venues.
The Aquatics Centre will become a community facility for use by local people after the Games as well as a world-class venue for athlete training and international competitions. The Handball Arena will become the capital's third largest arena with the capacity to host concerts, shows, exhibitions, sports and other events. Up to a million visitors a year are expected at the 115-metre high ArcelorMittal Orbit, which will be run as part of a contract for facilities and estate management across the Park.
Plans for GREAT campaign revealed
Today's meeting follows the announcement at the weekend of the next stage of the GREAT campaign, which is using the opportunity of London 2012 and the Diamond Jubilee to showcase the best of Britain to the world and boost tourism and trade and investment.
Culture Secretary Jeremy Hunt revealed that 17 major world cities will be targeted by the campaign this year. A series of international launch events will be held, including a spectacular event in Rio where GREAT images will be projected onto Sugarloaf Mountain and British music artists will perform.
"2012 - with the Olympics and Queen's Diamond Jubilee - will be one of the most exciting and momentous year's in this country's magnificent history," Mr Hunt said. "We must not waste the once-in-a-lifetime opportunity we have been given to showcase to the world all that is great about Britain. The GREAT campaign is rousing and inspirational. It will take our message right around the world - Britain is the place to visit, study and invest in right now."
Further information
Published 9 January 2012