Press release
Firms see climate change opportunities as well as risks
A new Environment Agency report shows how businesses view the risks and opportunities presented by future climate change and severe weather.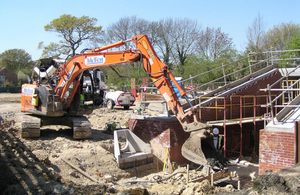 The report, 'Business opportunities in a changing climate', combines evidence from Carbon Disclosure Project (CDP) surveys of UK firms with new insights from interviews with leading businesses in the UK.
The report's key findings include:
86% of companies identified one or more climate-related risks

34% of the climate risks identified are being managed using a low-cost, 'business-as-usual' approach

33% of the opportunities identified are expected to arise within 3 years

Approximately 1 opportunity was identified for every 3 risks reported
Other findings from the report are that 44% of companies do not know the financial costs of climate impacts and that 62% of the market opportunities identified by companies related to increased demand for existing and new products and services.
The report shows that UK businesses are already exploring the opportunities that planning for climate change brings and highlights a range of benefits; from effectively protecting vital assets, to maintaining business continuity, and even gaining a competitive advantage. Much of this work is happening within 'business-as-usual' budgets, and with no need for extra funding, staff and skills.
The UK has world-class expertise in this field with sectors such as manufacturing, finance and insurance, environmental and engineering consultancy, and construction already exporting products and services globally to help clients manage climate change impacts. Demand for these products and services will continue to grow, the report concludes.
The Environment Agency's Acting Chair Emma Howard Boyd comments in the report:
Planning now for the impacts of severe weather and a changing climate makes good business sense and can have immediate benefits. For instance, if businesses can keep trading during severe weather they will not only retain customers, they may have the chance to win new ones.

We want UK businesses to be resilient to extreme weather to, be prepared for future risks, and to seek opportunities, where they can, from a changing climate.
Published 12 May 2016