Fire Minister Bob Neill visits Bromley Fire Station
Reducing arson and improving home fire safety.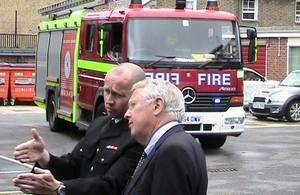 Fire Minister Bob Neill visited Bromley Fire Station on 12 July 2010 to learn more about how the borough's Fire and Rescue Service is reducing arson and improving home fire safety.
Along with hearing how the service is helping prevent home fires by visiting peoples' homes and identifying risks, Mr Neill heard how firefighters routinely visit arson 'hotspots' and working with the local council report items, such as dumped rubbish or broken street lighting, that can promote arson.
During the visit the minister watched one of the regular exercises the firefighters practice in the station's yard that simulate a domestic fire.
Published 13 July 2010