News story
Fire and rescue policy to move to the Home Office
Responsibility for fire and rescue policy will move from the Department for Communities and Local Government to the Home Office with immediate effect.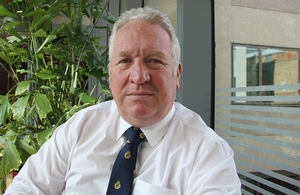 The Prime Minister today (5 January 2016) confirmed that ministerial responsibility for fire and rescue policy will transfer to the Home Office from the Department for Communities and Local Government, in order to support a radical transformation of how the police and fire and rescue services work together. Mike Penning will assume responsibility for the portfolio becoming Minister for Policing, Fire, Criminal Justice and Victims.
The move will deliver the government's manifesto commitment to deliver greater joint working between the police and fire service. It will pave the way for improvement in local fire and policing by providing clear leadership, supporting greater collaboration and delivering value for money for taxpayers. It will also allow the government to share good practice more effectively on areas such as procurement and prevention. The government recently consulted on proposals to enable Police and Crime Commissioners to take on greater responsibility for fire services at local level.
The response across the country to recent flooding shows how well the police and fire service already work together to protect the public and support local communities. The 2 services cooperate closely operationally in times of crisis, but also more routinely.
Successful collaboration
There are already excellent examples of successful collaboration between police forces and fire services across the country including:
In Northamptonshire, a joint collaboration programme includes sharing training, premises and a joint operations team across the 3 emergency services. This is expected to contribute to police savings of £21 million, and £2 million savings for the fire service, over 4 years.

In Durham, Tri-service Community Safety Responders have been trained to act as PCSOs, retained firefighters and community first responders (i.e. volunteer, on-call NHS ambulance personnel).

In Hampshire, senior police officers now operate out of the Hampshire Fire and Rescue HQ, saving both services about £600,000 a year.

The emergency services across Surrey and Sussex are developing the Multi-Agency Information Transfer (MAIT) programme, which will create a fully integrated joint contact and control centre, amalgamating 13 contact centres and saving an estimated 7,500 operator hours per year.
But the government thinks there is more to do to encourage this important collaboration and today's policy transfer will help facilitate that.
Minister for Policing, Fire, Criminal Justice and Victims, Mike Penning, said:
As a former firefighter and now Minister for Policing, I know from first-hand experience how well the police and fire service can work together. We believe that better joint working can strengthen the emergency services and deliver significant savings and benefits for the public. This is about smarter working, reducing the cost of back office functions and freeing up the time of front-line staff.

We are demonstrating at national level what we are asking emergency services to do at local level. As the Minister responsible for both fire and policing, I will be looking to ensure that both services learn from best practice, wherever it is found.

I'd like to record my admiration for the work of fire and rescue services. That work is of course particularly visible at times such as these, when many services are playing such a crucial role in the response to flooding; but I know the commitment and dedication of all fire and rescue staff is there day in day out, making their communities safer places for everyone.

This move will have benefits for both services. Fire authorities can learn from the journey that police forces have undertaken on reform over the last 5 years. Equally, the success of fire and rescue services in prevention holds important lessons for the police.
Other ministerial responsibility changes
Security Minister John Hayes assumes responsibility for serious and organised crime and the Minister for Preventing Abuse and Exploitation, Karen Bradley, will take over the drug and alcohol policy areas.
Security Minister John Hayes said:
I am pleased, proud and excited to take this important responsibility on because I am conscious that serious and organised crime destroys lives, damages communities and costs the UK at least £24 billion every year.

As Security Minister, I know how vital it is to meet emerging threats. The scale and complexity of serious and organised crime, including financial crime such as money laundering, requires not only a law enforcement response, but also the work of all those in a position to counter this wickedness. I will leave no stone unturned in examining and considering all that needs to be done to support the National Crime Agency, the police and other key agencies in cracking down on this menace.
Minister for Preventing Abuse and Exploitation, Karen Bradley, said:
Misuse of drugs or alcohol can have a devastating impact on individuals and communities. Having taken ministerial responsibility for drugs and alcohol, I will work with everyone involved - law enforcement agencies, charities, local authorities and industry - to ensure that we recognise new ways to tackle these problems, drive down associated crime, and protect the most vulnerable.

Substance misuse drives crime, but also places a significant burden on the health and criminal justice systems: drug misuse costs society over £10.5 billion a year; alcohol-related harm costs society more than £21 billion a year. So it's in all our interests to reduce it.

It's good that we have seen the trends in drug use and alcohol-related violent crime both fall over the last decade. I want to make sure these trends continue. So, in the spring I will be publishing a new Drug Strategy and will also develop our approach so we reduce alcohol-related crime even more as part of our Modern Crime Prevention Strategy. This will help us build safer and more resilient communities.
Published 5 January 2016