World news story
Finland v Northern Ireland travel advice
Travel advice for fans travelling to Helsinki for the Finland v Northern Ireland UEFA 2016 qualifying match on Sunday 11 October 2015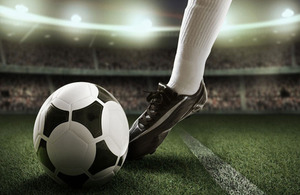 Advice for fans travelling to Finland v Northern Ireland UEFA 2016 qualifying match on 11 October 2015
Date: 11 October 2015
Venue: Olympic Stadium, Paavo Nurmenkuja 1, 00250 Helsinki
Kick off time: 7pm (local time)
As well as this advice, check out our travel advice for Finland.
Passports and visas
you don't need a visa to travel to Finland, but your passport should be valid for the duration of your stay in Finland; make sure next of kin details are kept up to date
remember your European Health Insurance Card EHIC but also take out travel insurance, even if you're only going for one night - it could save you a lot of money if you get into difficulties. No medical services are provided free of charge in Finland
if you lose your passport you'll need to get an Emergency Travel Document (ETD) from the British Embassy in Helsinki. You'll need to supply a police report, one photo (in colour) and a printed flight reservation (or emailed copy to helsinki.consularenquiries@fco.gov.uk). The fee is EUR 135 payable by cash in Euros or Visa/MasterCard Credit Cards. Note: fee may be affected by exchange rates.
Getting to the stadium
Map of Stadium and surrounding area
from airport : Local bus: 615 to main railway station ( +2km walk to Olympic Stadium) – tickets from driver at €5
from airport: Shuttle bus to local train taking you to main railway station (+2km walk to Olympic Stadium)
taxi from airport to stadium €50-60 (30-40mins)
At the match
access to the stadium can be slow - there will be ticket checks and body searches at the entrance to the turnstiles; to avoid a last minute rush, get to the stadium early
items banned in UK are likely to be banned at the Olympic Stadium as well
Tips
as in any other city beware of pickpockets and bag snatchers at airports, railway stations, around the town centre and when using public transport - only carry what you need and leave spare cash and valuables in hotel safety deposits
drinking in the street, in non designated pub or restaurant areas is prohibited in Finland
don't get involved with drugs - the penalties are severe. Drugs and drink driving laws are stricter in Finland than in the UK. Possession of even small quantities of narcotics can lead to heavy fines and/or imprisonment
for the latest information on safety and security, visit Foreign and Commonwealth Office page for Travel Advice - Finland.
Contact the British Embassy in Helsinki
British Embassy Helsinki Itäinen Puistotie 17 00140 Helsinki
Tel: +358 (0)9 2286 5100 (also for out of hours emergencies) Office hours: Mon-Fri 9am – 4pm (visits by appointment only) Email: helsinki.consularenquiries@fco.gov.uk For more information please visit British Embassy in Finland.
Emergency services numbers
112 for all rescue services
Further information
Document information
Published: 24 September 2015