World news story
Find the British Embassy in Argentina on Facebook and Twitter
Check out the embassy's activities on our Facebook and Twitter accounts, as well as information on everything the UK has to offer.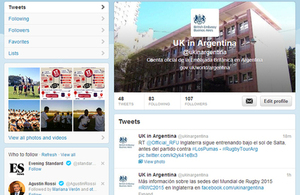 Visit our Facebook page and discover details of the UK's greatest attractions, including fantastic photos and interesting facts.
You will also find information on all the embassy's activities and events on our brand new Twitter account.
Published 16 January 2015