News story
Financial services sector in Bristol hailed by Economic Secretary
Economic Secretary hails Bristol's financial services sector and takes part in Life Skills session at local school.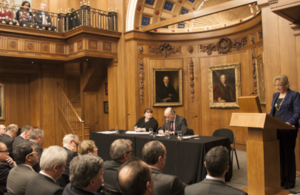 City Minister Andrea Leadsom today visited Bristol where she gave a keynote speech about the importance of the south-west's financial services sector to the local economy. She also visited the Bristol Brunel Academy to see first-hand how one of Britain's biggest banks is helping to equip local young people aged 11-19 with the skills they need to succeed in the workforce.
Leadsom gave the speech at a seminar organised by TheCityUK and hosted by KPMG, where she also met with senior industry representatives and hailed the area's growing and dynamic financial services industry.
This is particularly true in Bristol, where the sector employs over 30,000 people, and a number of major financial companies, including Hargreaves Lansdown, have a significant presence.
Whilst at the Bristol Brunel Academy the City Minister met with representatives of Barclays to discuss their Life Skills programme, which is benefitting over a million young people. Leadsom then attended a session on 'people skills', which is one of three areas the programme focuses on, and spent time interacting with students to gain a deeper understanding how the programme is helping them to succeed.
The Economic Secretary to the Treasury Andrea Leadsom said:
A key part of our long term economic plan is to support a competitive financial services sector, not only in London, but also in the rest of the country where around two-thirds of people who work in the sector are employed, across a huge variety of roles.

That's why I'm delighted to see the success of Bristol's financial and professional services hub, which is boosting job creation and supporting the local economy.

I've also had a chance today to visit the Bristol Brunel Academy and witness first-hand how Barclays and the Transformation Trust is helping to equip young people with the skills they need to succeed in the workplace through its Life Skills program.
Today's tour continues a series of visits by the City Minister to witness firsthand how the financial services industry is thriving outside the square mile and contributing to the wider economy.
Chris Cummings, Chief Executive of TheCityUK, said:
The south-west is an important financial services cluster, with over 150,000 employed in the sector and Bristol at its heart. Bristol has a thriving financial and related professional services industry with 3,600 new jobs created over the past year. The importance of the industry to the region is clear, with a contribution of over £12million in GVA (gross value added) in 2013.
Published 2 March 2015