Financial boost to Reserves and injured Service personnel
The Government is showing its commitment to Armed Forces personnel by giving extra financial support to Reserves and injured Service personnel.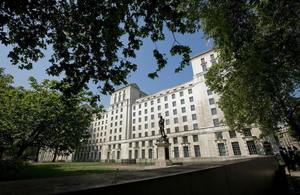 £5m will be spent on improvements to the Defence Medical Rehabilitation Centre (DMRC) at Headley Court, including refurbishing wards and accommodation.
And, in a new measure, civil servants from every government department who volunteer as Armed Forces reservists will be guaranteed a minimum 10 days' special paid leave to conduct their military training.
This will come into effect from December 2012 and will allow central government employees to attend the mandated annual period of continuous training (typically an annual camp) without having to draw on their annual leave entitlement.
Defence Secretary Philip Hammond said:
The MOD gives the highest priority to the care of injured troops, including the role of the Defence Medical Rehabilitation Centre at Headley Court. We constantly invest in staff, facilities, patient welfare and treatments and this additional £5m will further improve the infrastructure to ensure our injured Service personnel get the very best.

In the future, the Reserves will form an integral and integrated part of the Armed Forces so it is essential they have time to train. The Government is showing its commitment by taking the lead as an employer of reservists and we hope other employers will follow suit.
The investment at Headley Court will refurbish part of the Peter Long Unit, comprising wards and a dayroom, significantly improve accommodation in both the Officers and Combined Mess kitchens, upgrade the Single Living Accommodation, and replace carpets and heating systems.
This additional investment at Headley Court follows the £16.9m the MOD spent on the new Jubilee Rehabilitation Complex, which was formally opened on 19 September 2012.
Published 7 October 2012