World news story
Final Tongan contingent recognised for efforts in Afghanistan
The seventh contingent of Tongan Royal Marines were honoured for their services at Camp Bastion serving alongside British troops.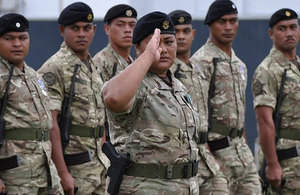 Major General Richard Felton CBE represented the UK's Chief of the Defence Staff at the final Afghanistan medal parade in Nukua'lofa last Thursday.
Major General Felton presented over one hundred Afghanistan Operational Service medals to the seventh and final contingent of Tongan Royal Marines who served alongside British forces at Camp Bastion. Members of His Majesty's Armed Forces (HMAF) had provided support to the British military in Afghanistan since 2011.
The parade was attended by the Prime Minister Honourable Lord Tu'ivakano, including Heads of Diplomatic Missions from Australia, Japan, New Zealand, People's Republic of China and the United States of America. Guests witnessed HMAF personnel perform the Tongan warrior challenge, the Sipi Tau.
During his visit, Major General Felton also called on the Prime Minister, Commander of the HMAF Brigadier General T 'Uta'atu and various diplomatic missions.
British Defence Adviser to Tonga, Lieutenant Colonel Tim Woodman who had overseen the seven deployments said the Tongan troops should be pleased with their achievement in Afghanistan.
At the King's parade last Friday, His Majesty ʻAhoʻeitu ʻUnuakiʻotonga Tukuʻaho Tupou VI, praised the work of his troops on deployments in Afghanistan including Iraq and the Solomon Islands. He said that while these operations had come to an end, the troops ought to continue to train hard in preparation for any future deployments. He added that the deployments promoted revenue to Tonga.
Published 21 May 2014