Press release
Final local TV licence marks arrival of new media industry
Communications Minister Ed Vaizey today heralded the awarding of the final local TV licence - for the city of Preston - as a key milestone in the creation of a new media industry in the UK.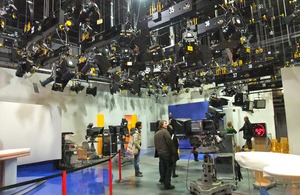 018/13
Ofcom today announced that YourTV Blackpool & Preston has secured the licence, which is the final one to be awarded in the initial round of local TV licences. The regulator received 57 applications to run 19 town and city-based TV channels. The first channels are expected to begin broadcasting by the end of the year.
Communications Minister Ed Vaizey said:
There has been huge interest in securing the rights to run local TV stations and bidders have produced innovative and exciting proposals.
Newspapers and radio stations are cornerstones of local communities and local TV will help enhance the areas they serve. They will help hold local councils and services to account while creating new jobs and opportunities in these towns and cities.
Awarding the final licence is a real step forward. Truly local TV services will soon become a reality for millions of people across the UK.
The first 19 local TV services will cover Belfast, Birmingham, Brighton & Hove, Bristol, Cardiff, Edinburgh, Glasgow, Grimsby, Leeds, Liverpool, London, Manchester, Newcastle, Norwich, Nottingham, Oxford, Preston, Sheffield and Southampton.
Ofcom selected these areas as they were technically capable of receiving a local TV service and had sufficient interest from potential operators.
Each bid was assessed against set criteria that included its proposals for programmes and the viability of the business plan.
Ofcom is currently preparing to offer licences for a second group of towns and cities later this year.
Notes to Editors
Details of the successful applicants for the 19 local TV licences are available from the Ofcom website.

Local TV will be broadcast on Freeview and available to the majority of households within the transmitter area. The services will be broadcast on channel 8 in England and Northern Ireland and on channel 45 in Scotland and Wales.

The BBC has agreed to make available up to £40 million of funds for local TV purposes and will be responsible for administering the funding accordingly. The arrangements for this have been set out in guidance issued by the BBC Trust.

The Government created a local TV framework to enable the services to emerge across the UK. More information on the Government's plans for local television.

In January, Ofcom announced Comux was the successful applicant for the multiplex licence. As a result another 28 areas have been identified for local TV coverage subject to licences being awarded in those areas. Ofcom will be seeking expressions of interest from potential operators in these additional locations, as it did before the first phase of licensing, later this year.
Published 1 March 2013